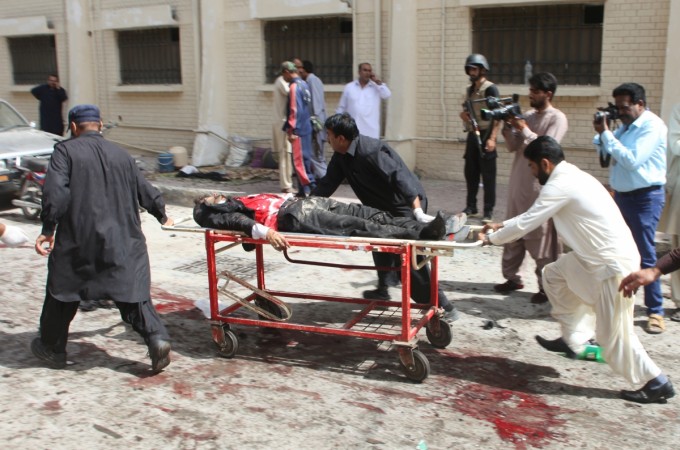 At least 13 people were injured in a roadside blast at Quetta's Zarghon Road near Al Khair Hospital on Thursday. Six civilians and four security personnel were injured in the blast that targeted an Anti-Terrorism Force bus in Balochistan's provincial capital.
The bomb on Thursday was placed along the side of the road and it exploded as the bus was passing the area. The attack targetted police officers who escorting a judge. The judge escpaed unscathed. The blast shattered the windows of nearby buildings, Pakistan media reported. At least three or four kilograms of explosive was used in the blast that took place on Balochistan's Independence Day.
"This is a busy road and the terrorists take advantage of this, planting bombs and fleeing on motorcycles," said Balochistan Home Minister Sarfaraz Bugti.
"These blasts are aimed at sabotaging Independence Day activities in Balochistan. I believe these cowardly acts will not bring down our morale. We are in a conflict zone and we will fight with renewed resolve."
"We are reviewing our security measures and you will see changes on the ground."
Security forces arrived at the spot and are conducting combing operation. The bomb squad also arrived at the scene. Rescue teams also arrived and the injured were taken to the nearby hospitals — Civil Hospital Quetta and CMH.
The area was cordoned off by the police after the attack.
The blast comes days after a massive explosion rocked Quetta killing at least 70 people. Reports said that a whole generation of lawyers was lost in the blast. Even journalists were targeted in the attack that took place at the emergency ward of Quetta's Civil Hospital on Monday.