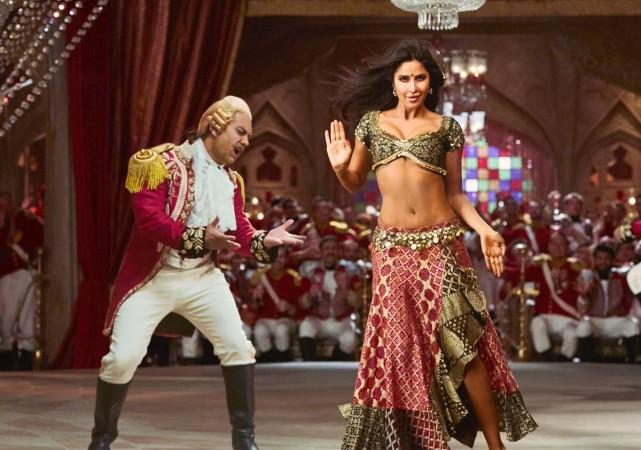 Thugs of Hindustan (TOH) has witnessed a steep decline in its collection at the domestic box office in the morning shows on the second day. Trade experts call it the effect of negative word of mouth for the film.
The Aditya Chopra produced mega-budget movie released in record number of theatres (5,000 screens) amid huge hype, expectations and promotion. Massive advance booking helped it get an earth-shattering response at the ticket counters. Thugs of Hindustan is estimated to have collected over Rs 50 crore net at the Indian box office on the first day and become the biggest opener of 2018.
But Thugs of Hindustan received negative that word of mouth and trade experts predicted it would take a toll on its collections. Taran Adarsh tweeted, "#ThugsOfHindostan may reap the benefit of the holiday period + tremendous hype + impressive names in its cast... But will find it difficult to sustain after the initial euphoria settles down... #TOH is a golden opportunity lost, a KING-SIZED DISAPPOINTMENT!"
As predicted, the word of mouth has apparently hit the business of Thugs of Hindustan. When compared to its opening day, the movie has witnessed a huge drop in its occupancy in the morning shows on Friday. Rohit Jaiswal, a trade observer of Bollywood, tweeted this morning, "Early Morning & Morning Show of #ThugsOfHindostan begins with 60% lesser occupancy as compared to ystrday...."
Thugs of Hindustan has seen 35 percent of footfalls in the morning shows on Friday. It is 50 percent dip when compared against Thursday's 70 percent occupancy. Sumit Kadel, another observer of Hindi film industry, tweeted, "#ThugsOfHindostan has crashed on Day-2 . If evening & night shows doesn't show major growth then its Friday collection will wrap below 25 cr nett. Currently film is running with 30-35% occupancy across India."
The Vijay Krishna Acharya-directed moive could no show big growth in the later shows. As per early estimates, Thugs of Hindustan has collected Rs 28 crore net at the Indian box office on Friday, taking its two day total collection to Rs 80 crore net in the domestic market.
Some people are blaming the film critics of spread negative reviews about Thugs of Hindustan, but the movie has received negative verdict from almost everyone who has watched it. Trade experts feel that the word of mouth hit the movie even more badly and it may not allow film to cross Rs 200 crore net at the domestic box office in its lifetime run.
Rohit Jaiswal tweeted, "Well it's a trend now a days... when politicians fail dey blame media.... When film fails dey blame Critics... Fans run on Emotions, we go as per ethics You can wait till 3 -4 Months I hv no issues, For Me its Biggest disaster this year, film will Wrap up under 180 or Max 200 (sic)."
#ThugsOfHindostan may reap the benefit of the holiday period + tremendous hype + impressive names in its cast... But will find it difficult to sustain after the initial euphoria settles down... #TOH is a golden opportunity lost, a KING-SIZED DISAPPOINTMENT!

— taran adarsh (@taran_adarsh) November 8, 2018
Early Morning & Morning Show of #ThugsOfHindostan begins with 60% lesser occupancy as compared to ystrday....

— Rohit Jaiswal (@rohitjswl01) November 9, 2018
#ThugsOfHindostan has crashed on Day-2 . If evening & night shows doesn't show major growth then its Friday collection will wrap below 25 cr nett. Currently film is running with 30-35% occupancy across India.

— Sumit kadel (@SumitkadeI) November 9, 2018
Well it's a trend now a days...
when politicians fail dey blame media....
When film fails dey blame Critics...

Fans run on Emotions, we go as per ethics

You can wait till 3 -4 Months I hv no issues, For Me its Biggest disaster this year, film will Wrap up under 180 or Max 200 https://t.co/Crl1Prn43V

— Rohit Jaiswal (@rohitjswl01) November 8, 2018