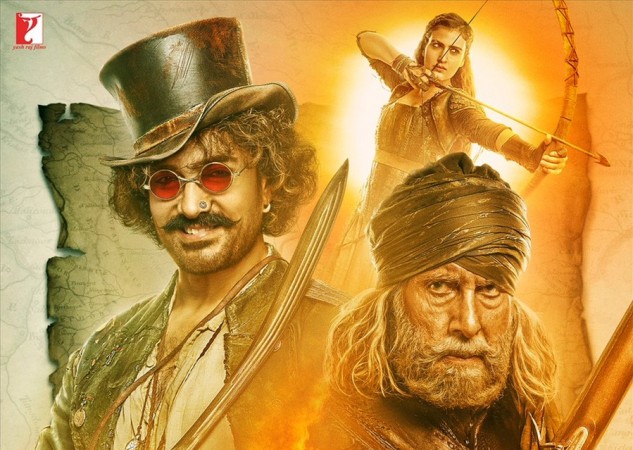 Aamir Khan's Thugs Of Hindostan (Thugs Of Hindustan) has been witnessing a steep decline in its movie business ever since it released in theatres on November 8. The percentage-wise drop of director Vijay Krishna Acharya's directorial has been abysmal and an eye-opener for the filmmakers reminding them to stop underestimating the audience these days.
Made with an estimated budget of Rs 300 crore, Thugs Of Hindostan was expected to outperform at the box office considering the stellar cast of Aamir Khan, Amitabh Bachchan, Fatima Sana Shaikh and Katrina Kaif. Touted to be one of the most expensive movies produced by Yash Raj Films banner, TOH was loaded with gravity-defying action sequences, warships, dramatic costumes and quirky characters with a topping of larger than life visual effects. Yet it failed to strike the right chord with the audience and nose-dived at the box office thanks to its shoddy narrative, poor storyline and average performances. Audience totally rejected it.
After taking an historic start at the box office, Thugs Of Hindostan started going down hill because of the bad word of mouth from audience and critics alike. On each passing day, the movie witnessed a considerable amount of drop in footfalls in cinema halls compared to its previous day. On Monday, some morning shows even got cancelled in some parts of the country and the downfall continued on Tuesday and extended on Wednesday as well.
The continuous downward spiral of occupancy in theatres affected Aamir Khan's movie business to such an extent that it has now turned out to be one of the biggest disasters of 2018. The total box office collection of Thugs Of Hindostan now stands at Rs 133.75 crore inclusive of earnings from Hindi, Telugu and Tamil circuits.
If we go by the current trend, Aamir Khan's Thugs Of Hindostan may wrap up its lifetime box office collections between Rs 150-Rs 175 crore.
Take a look at the percentage-wise drop and day-wise collection of Thugs Of Hindostan till date.
| | | | |
| --- | --- | --- | --- |
| Thugs Of Hindostan collection | Hindi | Tamil + Telugu | Percentage-wise drop (Hindi version) |
| Day 1 (Thursday) | Rs 50.75 cr | Rs 1.50 cr | - |
| Day 2 (Friday) | Rs 28.25 cr | Rs 1 cr | Fri [vis-à-vis Thu]: 44.33% |
| Day 3 (Saturday) | Rs 22.75 cr | Rs 75 lakhs | Sat [vis-à-vis Fri]: 19.47% |
| Day 4 (Sunday) | Rs 17.25 cr | Rs 75 lakhs | Sun [vis-à-vis Sat]: 24.18% |
| Day 5 (Monday) | Rs 5.50 cr | Rs 50 lakhs | Mon [vis-à-vis Sun]: 68.12% |
| Day 6 (Tuesday) | Rs 4.35 cr | Rs 40 lakhs | Tue [vis-à-vis Mon]: 20.91% |
| Total collection (Rs 133.75 cr) | Rs 128.85 cr | Rs 4.90 cr | |
Now it remains to be seen if Thugs Of Hindostan would recover the production cost from China box office or not considering Aamir Khan's huge fan base in the Middle Kingdom and the box office records of his previous films like Dangal and Secret Superstar. If the reports are to be believed, Thugs Of Hindostan will release in China on December 14.