Thousands of people from the Sikh community took part in the annual Sikh Day Parade on Saturday, April 28, in New York, the US. The members of the Sikh community thronged in numbers to celebrate their culture and also spread awareness about the hate crimes committed against them.
Men, women, and children came to the streets dressed in their traditional attire to attend the 31st year of the annual parade. The parade started at 1 pm from Madison Avenue and ended at the East 26th Street at around 4 pm.
The annual parade included a wide-range of activities like dance, music, marching bands and even martial arts performance displayed by members of the Sikh community. There were also decorated floats that were part of the event as thousands of participants made their way through Manhattan's Madison Avenue, Press Trust of India reported.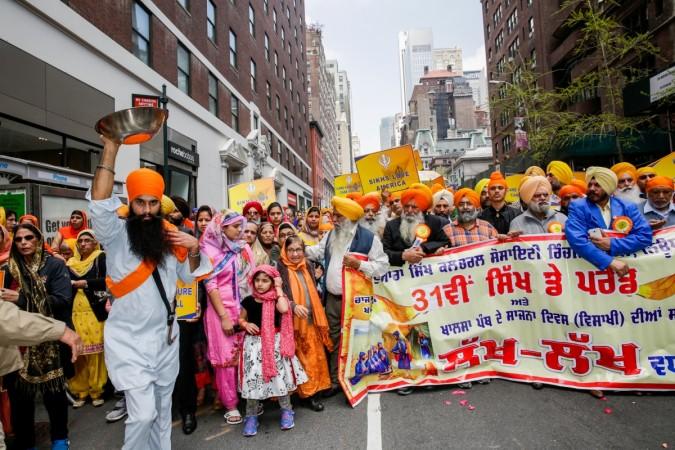 Sikhs of New York co-founder Chanpreet Singh also added that the parade involved "langar" where people were offered free food. "The parade is a celebration of our culture. It helps us portray what we believe in. Such events help in creating awareness about the Sikh culture and how it is accepting of other faiths and traditions," Singh told PTI.
Singh further added that the community had faced racial issues and hate crimes since 9/11 happened. Through the parade, they hope to convey that the Sikh values are along the same lines to that of the American values.
"As our great city grows more diverse, we're committed to making sure the #NYPD does, too. The best way to serve all neighborhoods is to ensure every community is represented within our department. Public safety will always be a shared responsibility," New York City Police commissioner James O'Neill tweeted on the parade. He was also joined by Ravinder S Bhalla, the mayor of Hoboken, New Jersey.
O'Neill had played a key role in allowing Sikh officers to wear turbans and sport a beard while serving the city police in 2016. At present, there are about 170 Sikhs who are serving the New York Police Department, NY Daily News reported.