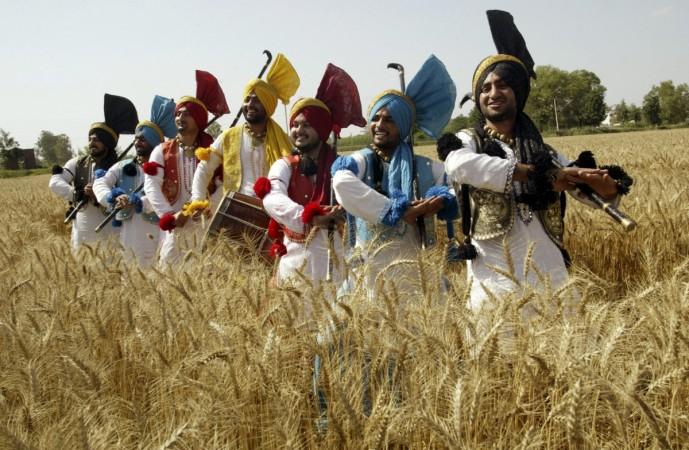 Come April and every community is seen welcoming their new year in their traditional way. The second weekend of April stands important as it celebrates a number of festivals – Good Friday, Vishu, Tamil New Year followed by Easter. Baisakhi joins the list.
Also Read: Baisakhi 2017: Five mouth-watering recipes to celebrate the harvest festival
Taking place on April 13 this year, Baisakhi stands important to the Sikh and Hindu community as it not only marks the harvest season but also begins the New Year. It also marks the formation of Khalsa Panth of the warriors under Guru Gobind Singh in 1699.
Baisakhi is celebrated in a number of ways. The most popular one is through the tradition of Awat Pauni where people from the different communities come together to harvest wheat together. Accompanied with the Dhols, families and people from all backgrounds and ages are seen singing folk songs and dancing to the tunes of the Dhols as they harvest the first grown wheat.
Another important element of the Baisakhi celebrations is the melas (carnivals). Taking place in different locations on the day, people throng to the parade to get a glimpse or be a part of the colourful celebrations. Events like bhangra and gidda performances, races, wrestling, singing and acrobatic performances are hosted to entertain onlookers.
Folk instruments also see the light as many artistes display their talents at these carnivals. A number of makeshift stalls are also set up that sell toys, jewellery and handicrafts. Every village and city hosts their unique carnivals that are a crowd puller.
Here are a few Baisakhi folk songs that are played as part of the celebrations:
The festival also marks a number of important occasions in the history of Punjab including the Jallianwala Bagh massacre.
On the occasion of Baisakhi, gurudwaras also organise kirtans (religious musical get togethers) where devotees sing holy hymns.
But how do you wish someone on the occasion of Baisakhi? Here are a few Baisakhi SMS, Whatsapp and Facebook wishes you can send your loved ones:
In English:
- This Baisakhi, wishing you and your family a fruitful and prosperous year ahead. Happy Baisakhi!

- May this Baisakhi bring you closer to your dreams. I pray that God help you break all barriers and reach success. Happy Baisakhi.

- My dear friend, I hope that the changing season brings good harvest to you and your family. I pray that you are blessed with all happiness and I pray for your well-being. Happy Baisakhi.

- Let's put an end to the year gone by and start afresh with new hope, better thoughts and greater goals. Wishing you a happy Baisakhi.

- Even Kings and emperors with heaps of wealth and vast dominion cannot compare with an ant filled with the love of God. – Guru Nanak Dev Ji! Happy Baisakhi.

- Guru Nanak Dev Ji said, "He who has no faith in himself can never have faith in God." So believe in yourself and begin this New Year with a positive spirit. Happy Baisakhi!

- Guru Nanak Dev said, "Whatever kind of seed is sown in a field, prepared in due season, a plant of that same kind, marked with the peculiar qualities of the seed, springs up in it." So sow the right seeds this harvest festival. Happy Baisakhi!
In Punjabi:
- Baisakhi diyan lakh lakh vadhaiyan!!! Happy Baisakhi

- Baisakhi de iss subh din diyan twanu saareyanu vadhaiyyan. Wahe Guru Ji sareya da bhala kare.

- Khud ta aa ni paaye, SMS de bahane twade darwaje te sandesa chad aaye, Baisakhi di mubaraka pejhi hai dekhlo, idde naal ik jappi vi de do! Happy Baisakhi!

- Babaji kare iss saal vaisakhi twade parivaar nu khushi naal par deve, Happy Baisakhi!

- Baisakhi de laddu khao aur garmiya de aane da rola paana shuru kar leyo, Happy Baisakhi!

- Khalsa Mero Roop Hai Khas; Khalse Main Haun Karaun Niwas; Khalsa Mero Mukh Hai Anga; Khalse Ke Haun Sadha Sadha Sanga! Warm wishes on the auspicious day of the birth of Khalsa!

- Nachle Gaale Hamaare Saath; Ayi Hai Baisakhi Khushiyon Ke Saath; Masti Mein Jhoom Aur Kheer-Puri Kha; Aur Na Kar Tu Duniya Ki Parwa! Baisakhi Mubarak!