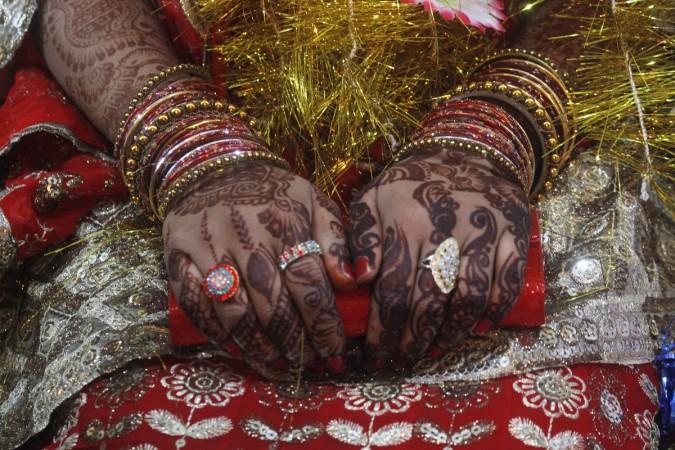 A Sikh widow from Punjab, who visited Pakistan on pilgrimage, has now raised an alarm back home after she has requested a visa extension saying that she had converted to Islam and married a Muslim man. The 32-year-old, identified as Kiran Bala from Hoshiarpur, a city in the north Indian state of Punjab, now goes by the name Amina Bibi.
Bala has said that she married Pakistani man Mohammad Azam at the Jamia Naeemia seminary in Lahore April 16, and now fears that if she returns to India her life may be in danger. "Now in the given circumstances, the undersigned could not return back to India and the undersigned has received life threats of assassination, therefore, the undersigned intends to extend her visa," the Indian Express quoted the letter as saying.
However, the widow's in-laws back home fear that she might not have married the man on her own will and may have been trapped by the ISI.
"We fear she may have been trapped by the ISI. My only request is to bring her back," said Tarsem Singh, Bala's father-in-law. He also explained that his son, Bala's husband, had died in a road accident about five years ago.
Unnamed sources also told the daily that Bala had been missing in Islamabad for the last few days, even though she had gone to Pakistan with about 800 pilgrims.
"She went to attend the festival at Gurdwara Panja Sahib in Hasan Abdal near Islamabad," they said.
My daughter-in-law called & said that she has converted to Islam & got re-married in Pakistan. I want to request the Prime Minister, CM of Punjab to take her out of this situation. I suspect she might have fallen into the hands of ISI: Tarsem Singh, Father-in-Law of the woman. pic.twitter.com/e2MhzQr5pV

— ANI (@ANI) April 19, 2018
"Her visa will expire on April 21. Since Indian High Commission officials were not allowed to meet the pilgrims over the last few days, her disappearance did not come to their notice. But a head count is taken every day of the pilgrims...this means Pakistani authorities were aware that she had gone missing. They did not inform us."
Bala is said to have called her in-laws April 16 to inform them that she has converted to Islam and remarried. "We thought that she was joking. But I received a call from the BBC yesterday asking about the remarriage of my daughter-in-law in Pakistan. That's when I realised that her phone call was not a joke," her father-in-law added.
Her in-laws also told the IE that Bala, who has three children, was often seen talking for long hours on the phone.
"Over the last month, she was continuously on her phone. Sometimes, she would lock herself up in her room to talk on the phone. When we asked her about it, she said she was talking to relatives," he said.
Indian authorities have now taken up the matter and they too fear that she was forcibly converted and trapped by the ISI. "The last thing we want is another Indian national suffering like Uzma Ahmad did," they said.
Ahmad, a Delhi resident, had married a Pakistani national she met in Malaysia. However, she later said that the man was already married and had four children. She also revealed that she was forced to marry the Pakistani man at gunpoint and sexually assaulted.
She then sought the protection of the Indian High Commission in Islamabad and was brought back to India in 2017.