Telangana is gearing up as the fate of 1,821 candidates will be announced on Tuesday, December 11. The exit polls show that the K Chandrasekhar Rao-led Telangana Rashtra Samithi will emerge victorious. However, the Congress-Telugu Desam Party-Communist Party of India-alliance has also put up an equal fight.
The counting began at 8 AM on Tuesday.
The polls for 119 seats were held on December 7. The Election Commission had set up over 32, 815 polling stations across the state to accommodate a total of 280,747,22 people out of which 1,41,56,182 are men and 1,39,05,811 are women.
While KCR is confident that he will return as the chief minister for another term, AIMIM chief Asaduddin Oawisi also said that he is sure that candidates from his party will win every seat they contested.
The final trends, according to reports claim that Telangana Rashtra Samithi is leading with 77 seats, Congress' Prajakutami alliance with Telugu Desam Party and Communist Party of India has bagged 33, BJP, led by Amit Shah, has one constituency under its belt while other parties have won seven.
Live Updates
2018-12-1118:33 (IST)
Owaisi praises KCR; commends him on his win
"I say this with all responsibility that K Chandrasekhar Rao has all capabilities & capacities to ensure that a non-Congress govt comes into existence when the next parliament election takes place & this country requires a non-Congress & a non-BJP govt," the AIMIM leader told ANI.
He also said, "After seeing K Chandrasekhar Rao from very close quarters I feel that this nation deserves a leader like him&I hope that next step he'll take will be successful&I'll stand shoulder to shoulder with him ensuring that in '19 election there's a non-Congress & non-BJP govt."
2018-12-1117:20 (IST)
KCR's son K T Rama Rao says he is 'humbled by results'
Son of Telangana chief minister and TRS candidate K T Rama Rao tweeted that he was humbled by the results after TRS came out with a thumping victory. Emerging as the sngle largest party, Telangana Rashtra Samithi won 87 seats, while the Congress won only 19.
2018-12-1115:56 (IST)
Congress submits complaint to Telangana CEO regarding EVM tampering
2018-12-1115:54 (IST)
Chandrababu Naidu extends his congratulations to KCR
"People recognize that BJP has done nothing in last 5 yrs and moving towards alternative. People are with us in our fight against BJP. These 5 states results will help form a strong alternative to the BJP," says TDP president and Andhra Pradesh chief minister N Chandrababu Naidu to ANI.
He added, "TDP respects the mandate of people of Telangana. Congratulations to Shri K. Chandrasekhar Rao. Also, best wishes to all the newly elected public representatives of 5 states."
Naidu was instrumental in helping the Congress form the Prajakumati alliance which includes Communist Party of India and the Telangana Jana Samithi in Telangana.
2018-12-1115:08 (IST)
TRS candidate wins from Sanath Nagar
TRS candidate Talasani Srinivas Yadav wins from Sanath Nagar constituency by 30,217 votes.
2018-12-1114:58 (IST)
KCR wins in Gajwel seat
TRS president and Telangana chief minister K Chandrasekhar Rao won in his Gajwel seat by 51,515 votes.
2018-12-1112:44 (IST)
K Kavitha dismisses Congress' EVM tampering allegations
"The losing party always says the EVMs have been tampered with, this is absolutely false. Even the CEC in a press meeting yesterday said that it is not possible to tamper EVMs. People have given victory to TRS, what Congress is claiming is false," K Kavitha, TRS MP told ANI.
2018-12-1111:42 (IST)
Congress questions TRS' predictions before vote counting
"I am having doubts on results we're getting in Telangana ballot paper counting. We're doubting that tampering could have been done in EVMs. Slips should be counted in VVPATs," Telangana Pradesh Congress Committee's Uttam Kumar Reddy told ANI.
He also added, "All the Congress leaders will complain to RO officers. We will also complain to ECI on this matter. How can TRS leaders say before counting that who will lose in elections."
2018-12-1111:30 (IST)
Results declared in 113 seats
With 113 out of 119 seats declared, the TRS has won 85 seats, Congress won 17 seats TDP won two and BJP won one seat.
2018-12-1111:27 (IST)
Congress blames EVMs for loss
Senior Congress leader V Hanumantha Rao has said that due to the poor working of the EVMs, his party lost. he has placed the blame on incumbent chief minister KCR regarding the malfunctioning of the machines.
2018-12-1111:14 (IST)
TRS workers celebrate outside office in Hyderabad
After TRS emerged victorious, thumping Congress' Prajakumati alliance, party workers have not held back in the celebrations of their victory.
While ruling party crossed the halfway mark with 77 votes while the Congress-TDP-CPI-TJS alliance won in 30 constituencies.
2018-12-1110:20 (IST)
Trends in Telangana
TRS - 76
Congress+ - 33
BJP - 3
Others - 7
2018-12-1109:56 (IST)
Owaisi wins in Chandrayan Gutta constituency
AIMIM leader Akbaruddin Owaisi wins from Chandrayan Gutta constituency.
2018-12-1109:52 (IST)
TRS worker begin celebrating in Hyderabad
TRS workers begin early celebrations in Telangana's capital city as TRS crossed the halfway mark. The early trends show that TRS is leading with 85 seats while the Congress' Prajakutami has 18 seats. BJP has bagged two seats and other parties with four.
2018-12-1109:37 (IST)
TRS leading in 15 constituencies
According to the Election Commission of India, TRS is leading in Telangana, winning in 12 constituencies. Congress bagged one constituency, Asaduddin Owaisi's AIMIM has one and independent parties have one.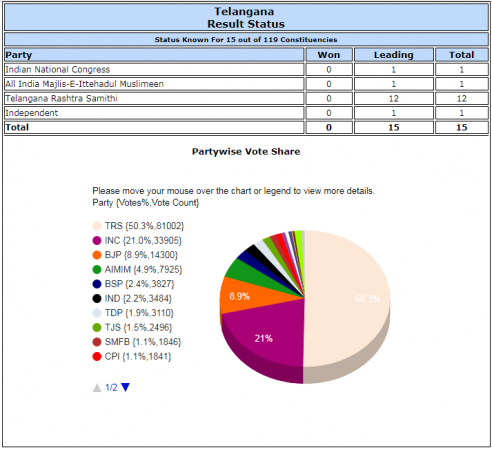 2018-12-1108:57 (IST)
K Kavitha confident of victory
K Kavitha, a TRS MP is confident that the party will come back to power and that the people of Telangana are with them.
K Kavitha, Telangana Rashtra Samithi (TRS) MP: We believe people of Telangana are with us. We have sincerely worked and utilised the opportunity given to us. So I believe voters will bring us back to power, and that too independently. We are very confident about it. pic.twitter.com/fgY4EwfguZ

— ANI (@ANI) December 11, 2018
2018-12-1108:53 (IST)
Congress, TRS in a neck-to-neck battle
TRS - 30
Congress+ - 30
BJP - 3
Others - 4
2018-12-1108:44 (IST)
Congress' Praja Kutami leads in Telangana
TRS - 12
Congress+ - 18
BJP - 2
Others - 3
2018-12-1108:40 (IST)
Congress leading in Telangana
TRS - 8
Congress + - 13
BJP - 2
Others - 2
2018-12-1108:26 (IST)
TRS maintains lead
TRS - 4
Congress 2
BJP - 0
2018-12-1108:25 (IST)
TRS pulls ahead
TRS - 3
Congress - 2
BJP - 0
2018-12-1108:22 (IST)
First trends - Congress alliance leading in Telangana
The Congress alliance is leading with two seats and TRS has bagged one seat till now.
2018-12-1108:17 (IST)
Praja-Kutami meets Telangana governor
The Congress-led Praja Kutami met with Telangana's governor E. S. L. Narasimhan on Monday and asked that he must treat the alliance as a single entity in case of a hung verdict.
2018-12-1108:10 (IST)
Congress planning on moving MLAs to resorts
Reports claim that Congress is planning on moving its MLAs to a resort to make sure that no poaching takes place.
2018-12-1108:08 (IST)
Congress office decked up in Hyderabad
The Congress office holds a festive look head of the counting of votes on Tuesday. Congress president Rahul Gandhi joined hands with Andhra Pradesh chief minister and TDP president N Chandrababu Naidu in November after the latter with the NDA.
2018-12-1108:05 (IST)
Counting begins
Counting begun at 8:01 AM
2018-12-1107:55 (IST)
Owaisi meets KCR on Monday
AIMIM chief Asaduddin Owaisi met with chief minister K Chandrasekhar Rao on Monday and held talks with him for more than two hours fueling rumors that he will support TRS.
2018-12-1107:52 (IST)
First assembly elections in state after formation
This is the first assembly elections in Telangana after its formation in 2014. The elections were supposed to take place simultaneously with the 2019 Lok Sabha elections.
However, after the incumbent chief minister K Chandrasekhar Rao recommended the dissolution of the assembly, the elections were advanced to December.