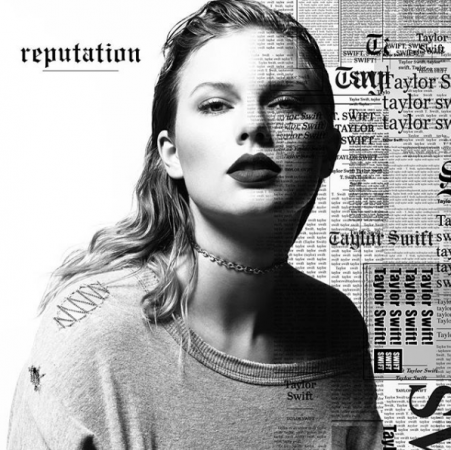 Taylor Swift has dropped what is probably her most anticipated album yet, and it's everything her fans have been living for. That's right, Reputation is out and flooring fans all over the world, and if there's one thing you can expect from the tracks, it's Taylor's brutal, unabashed, honest clapback.
This is Taylor's fifth album, and had raised expectations really high after the 27-year-old sweetheart of millennial pop-culture went on a sudden unannounced hiatus earlier this year. Taylor has been teasing fans since August with clips of the album, and now it's finally here.
Also read: Taylor Swift wins at surprising fans once again
The track list for the album was leaked a while ago, but unlike the usually protective self she is about her music, Taylor had remained calm about it. She herself had taken to Instagram to post all 15 track names in the album, making it her second-longest after her 2013 hit Red.
However, after multiple steps to keep the entire album a secret, including a strong decision to keep it off all online streaming services, Reputation managed to get leaked online just hours prior to its official launch.
And hardcore Taylor fans or "Swifties" strongly disapproved of it.
if you want to listen to the leak ahead of time that's personal and that's on you but as a fan you should know that taylor wants this to be a secret until literally midnight you're betraying her trust....

— em (@taylenabae) November 9, 2017
don't ? ever ? call ? yourself ? a ? swiftie ? if ? you ? listened ? to ? the ? leak#reputation

— lou ?? (@unwealchonce) November 9, 2017
out of respect for Taylor i would never even dream of leaking it, no need to leak an artists work whenever its released worldwide at midnight.

— Dylan (@holdoncarpenter) November 9, 2017
Please delete it.Taylor worked hard for it.If you are really a fan,you should respect her decision and never do anything disappoint her.

— 昝齉爨 China (@wyh1113) November 9, 2017
Yet there were also a few who had a hard time staying away from listening to it.
i don't know if i should listen to the reputation leak or not, i already preordered it but i know i will feel guilty if i listened and taylor wouldn't like it uhm decisions

— wolves (@selciety) November 9, 2017
me after listening to reputation leak: I Did Something Bad, Don't Blame Me

— f (@sexlovefrary) November 9, 2017
But the music is out and about officially now, and earning rave reviews. And as is clear, her fans are not disappointed. From reinventing herself as a pop-diva to stating out loud and clear that she doesn't care in the slightest about her tabloid structured reputation — Taylor Swift is back with a bang.
But of course her fans and the rest of the world can never stray from their favourite habit of dissecting which Taylor song is about whom, so here's a list of possible targets at whom shots have may or may not been fired.
Ready For It: "Younger than my exes, but he act like such a man though" – Our guess is definitely her rumoured current beau Joe Alwyn.


End Game (Ft Ed Sheeran and Future): We are leaving this one open to interpretation because it could be any of the three possibilities.
While "I don't wanna be just another ex love" points a finger at Calvin Harris, there comes "I don't wanna miss you like all the other girls do," which could be a definite hint at Tom Hiddleston, considering his female fan base.
I Did Something Bad: This one has to be Calvin Harris, as well as Taylor's many, many critics who have labelled her as a manipulative, man obsessed, control freak when it comes to relationships. "He says don't throw away a good thing / But if he drops my name then I owe him nothin' / And if he spends my change then he had it comin'." Looks like a clear dig at Harris.
And then she spills the "They're burning all the witches even if you aren't one / They got their pitchforks and proof, their receipts and reasons ... So light me up" part, so her critics can back off and stay in their lanes.
Don't Blame Me: "I been breakin' hearts a long time and / Toying with them older guys / Just play-things for me to use" – Just classic new Taylor putting the "old Taylor" to rest as she asks her critics, once again, and politely, to back off.


Delicate: The two major incidents from Taylor's public reputation leading up to the album were her very messy split with Calvin Harris and the feud-fiasco with Kanye West and Kim Kardashian. And then come the lyrics of this track, musing: "My reputation's never been worse, so he must like me for me." Talk about two birds with one stone!
Look What You Made Me Do: The much-talked-about-and-analysed first track from the album has been associated with Taylor's feud with ex-friend Katy Perry and also the Kim Kardashian feud. So we're sticking to that.


So It Goes: Another fierce but sappy love jam that reminds us of the White Horse singing girl that Taylor was in her Fearless era. Looks like Joe Alwyn has earned more than just one spot on Taylor's new album.
Gorgeous: "You're so gorgeous / I can't say anything to your face / 'Cause look at your face." – Oh, Joe Alwyn. What have you done to our beloved Taylor Swift? Lovesick, that's what. But no one's complaining, so all's good!


Getaway Car: "I wanted to leave him / I needed a reason / With three of us, honey, it's a side show / And a circus ain't a love story." – Were all those rumours about Calvin Harris releasing an infidelity-based track supposedly inspired by Taylor Swift true, then? Could this be about a prospective love triangle between her, Harris and Tom Hiddleston?
King of My Heart: She promises to stay off men until the knight in shining armour appears. Joe Alwyn takes the honour for this one again.
Dancing With Our Hands Tied: One can already sniff the hint of a low-key romance in this one, and let's just say this is the sixth win for Joe Alwyn, courtesy their super hushed-up romance and basically no public appearances together.
Dress: "Only bought this dress so you could take it off, take it o-o-o-o-off / Carve your name into my bedpost." It's been pretty heavily established by now that no matter how secret their romance has been, Taylor is deeply, undoubtedly in love with Joe Alwyn.


This Is Why We Can't Have Nice things: "There I was giving you a second chance / If only you weren't so shady / But you stabbed me in the back while shaking my hand / And therein lies the issue / Friends don't try to trick you / Get you on phone and mind-twist you" – That get-on-the-phone reference is all one needs to hear to know who this is about. Remember the Kanye West feud where the rapper had leaked a phone conversation, ruining Taylor's defamation lawsuit against him for his track "Famous"? Just saying!
Call It What You Want: "My castle crumbled overnight / I brought a knife to a gunfight / They took the crown, but it's all right" – Just good old Taylor giving her fans a glimpse of her Juliet days from the Fearless album. The only difference is her lyrics are actually a lot more fearless this time.


New Years Day: This one's the perfect conclusion track where Taylor — who has grown wise and evolved through the years of public scrutiny and being analysed by the media continuously — asks fans to pay attention to the little things in life. "Hold on to the memories, They will hold on to you."