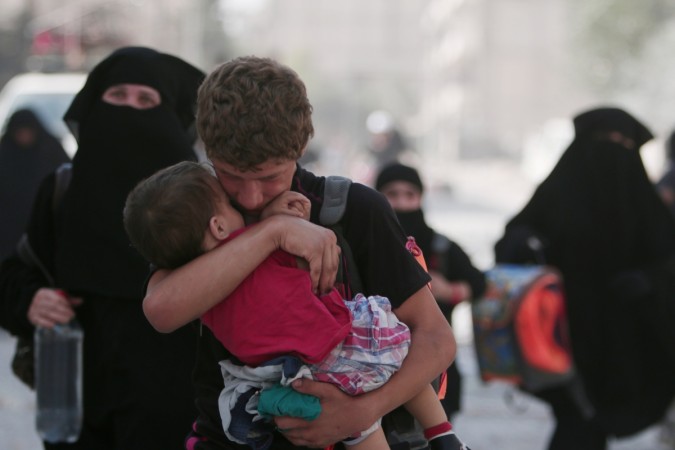 Militants from the Islamic State group, also known as the Islamic State of Iraq and Syria (Isis) or the Islamic State of Iraq and the Levant (Isil), have reportedly taken more than 2,000 people hostage from Manbij city, which they have recently lost to the Syrian Democratic Forces (SDF), who are backed by the U.S. A Syrian Observatory of Human Rights (SOHR) report recently said the SDF fighters had captured the last pockets of Manbij city, in a battle since May 31 that had seen 1,744 deaths.
The city of Manbij in the Aleppo governorate has been one of the biggest strongholds of Isis, after governorate headquarters Aleppo city. Manbij has seen protracted fighting for control since May 31, since the SDF forces have driven Isis fighters out of the city one neighbourhood at a time.
The SOHR report said after the Isis militants were driven out of Manbij, they proceeded in a convoy of 500 cars to Aleppo city. However, they were said to have taken with them 2,000 people to use as human shields in case they were attacked while on their way to Aleppo or when they reached there. Earlier reports had said Isis militants were holding another 3,000 people in Iraq, whom they intended to use as human shields there. Human rights organisations say many women and children captured by Isis to be used as human shields are also kept as sex slaves, and often tortured to death.
Besides using human shields, Isis militants have been known to make use of booby traps and cars laden with explosives to deter any attacks on them. They are also known to hide out in more populated areas, occupying human settlements, in hopes that their opponents would not risk the lives of civilians while attacking them.
It may be noted here that among the 1,744 people whose deaths were documented by the SOHR, 209 were soldiers of the SDF while 1,099 were Isis militants.