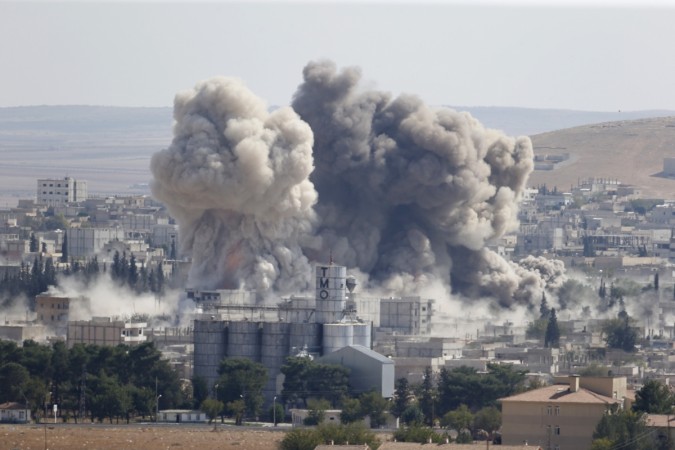 The Islamic State group reportedly used chemical weapons to target civilians near the city of Aleppo in Syria, leading to injuries to at least eight people. The attack happened on Friday, the same day aircraft from the coalition led by the United States destroyed a factory belonging to the extremist group where such weapons were being made.
Russian broadcaster RT Arabic reported that the Islamic State group — also known as Islamic State of Iraq and Syria (Isis) or Islamic State of Iraq and the Levant (Isil) — perpetrated the chemical attacks in the districts of Harbal and Um Hosh in the Aleppo province.
The eight people injured in the attacks — five civilians and three belonging to groups aligned with the Syrian Democratic Forces — are reportedly in coma now in a hospital in Afrin, near where the attack took place, and have exhibited symptoms of being affected by weaponised chemical agents.
Syria is currently supposed to be witnessing a lull in fighting following a truce brokered between the rebel forces and those aligned with the regime where Bashar al-Assad is president. However, that ceasefire may not last, given that airstrikes by the US-led coalition have killed at least 60 soldiers from the regime.
The RT Arabic report also cited the Syrian-American Medical Society from March that had said Isis carried out at least 150 attacks involving "poisonous or asphyxiating agents, such as sarin, chlorine, and mustard gas" since the start of the Syrian conflict.
Chemical weapons factory destroyed
The coalition aircraft, however, carried out strikes on Friday in which they destroyed a factory that was reportedly making the same kind of chemical weapons that were reportedly used in Aleppo. The airstrikes also killed a number of Isis members.
A source in Kirkuk confirmed to Iraqi News that the factory was indeed in the process of making missiles filled with deadly gases.
The source said: "International aviation coalition bombed a plant used by Isis to manufacture missiles carrying mustard gas and chlorine gas, around 75 km southwest of Kirkuk. The strike completely destroyed the plant. The strike also targeted Isis sites in Rashad and Riyadh killing 15 Isis members and injuring seven others, apart from destroying tactical units."