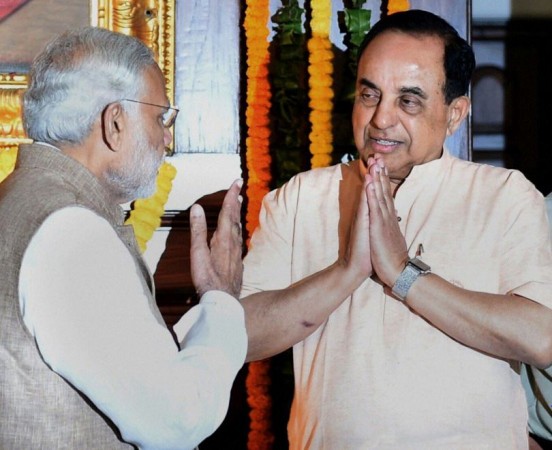 Bhartiya Janata Party's (BJP) Rajya Sabha member Subramanian Swamy has reportedly written a letter to Prime Minister Narendra Modi requesting immediate sacking of Raghuram Rajan as the governor of the Reserve Bank of India (RBI) because he is "mentally not fully Indian."
Swamy has apparently written in the letter that Rajan is "wilfully and deliberately wrecking the Indian economy." According to an ANI report, Swamy is of the opinion that Rajan's idea of increasing interest rates to curb inflation has given rise to unemployment in the country. Also, the non-performing assets of public sector banks have doubled to Rs 3.5 lakh crore in the last two years.
"These actions of Dr Rajan lead me to believe that he is acting more as a disruptor of the Indian economy than the person who wants the Indian economy to improve. Moreover he is in this country on a Green Card provided by the US government and therefore mentally not fully Indian. Otherwise why would he renew his Green Card as RBI governor by making the mandatory annual visit to the US to keep the Green Card current? [sic]" Swamy was quoted by the Times of India as saying in his letter to Modi.
Swamy, reportedly, also wrote in his letter that he couldn't understand why a man who had been appointed by the UPA government and is apparently working "against Indian economic interests," should be the governor of RBI when the country has "so many nationalist-minded experts available" for the position. Swamy was quoted by the Economic Times as saying: "The sooner he is sent back to Chicago, the better it would be."
According to the Times of India report, Swamy's attack on Rajan came amid reports of the RBI governor being interested in a second term.
The report also stated that Finance Minister Arun Jaitley refused to be a part of the controversy and said the government and the RBI shared a "mature relationship" as both institutions "have discussion and each other views is considered between us". When asked whether Rajan would be appointed for a second term, Jaitley reportedly said: "These are not issues which we discuss through the media."
Rajan's push for keeping inflation under check through high lending rates was reportedly seen by the BJP as a hindrance to the country's economic growth.