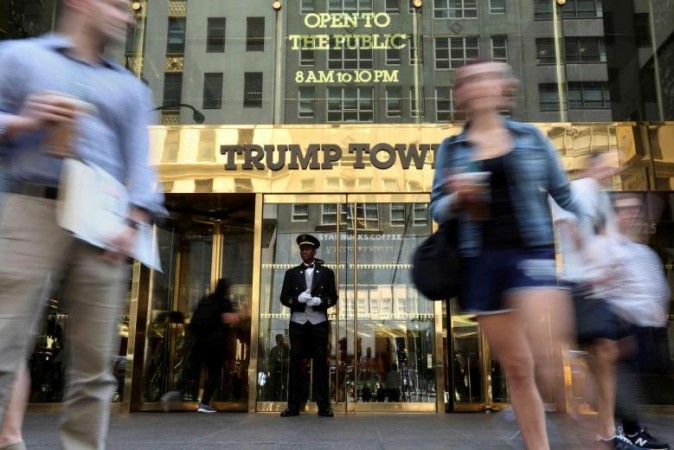 United States President-elect Donald Trump's Trump Tower in New York was evacuated on Tuesday after authorities discovered a suspicious package, which later turned out to be a bag full of children's toys.
The bag was detected in the lobby of the building where Donald Trump lives. Trump was, however, in Florida at that moment. A video was posted on Twitter which showed people rushing out in hurry after a police officer shouted "Out! Out!." The video was posted by Twitter user @cielo_celest.
If Donald Trump shuns 'White supremacy', alt-right groups could trigger a backlash
The New York Police Department's (NYPD) Detective Hubert Reyes said that after the evacuation, the suspicious package was investigated by the bomb squad and the authorities found just toys in it. The detective also added that the Secret Service was involved in the investigations too, according to CNN reports.
"Suspicious package at Trump Tower has been examined by NYPD Bomb Squad. Deemed to be an unattended bag and safe," police tweeted.
Reports state that at the time of the evacuation of his residence lobby, Trump was busy posting tweets on social media targetting President Barack Obama. He wrote, "President Obama campaigned hard (and personally) in the very important swing states, and lost.The voters wanted to MAKE AMERICA GREAT AGAIN!"
New York is reportedly spending millions of dollars on security in US President-elect's building to safeguard him. Reports state that the city has asked the federal government to reimburse it for the expenses, which led to a Twitter-tiff between the officials.
Soon after the incident, the spokesperson for Trump, Sean Spicer had tweeted saying, "Back to work here at Trump Tower after a false alarm. Thanks NYPD."
In response, the spokesperson for NYC Mayor Bill de Blasio, Eric Phillips said, "No problem. We'll send you the bill."