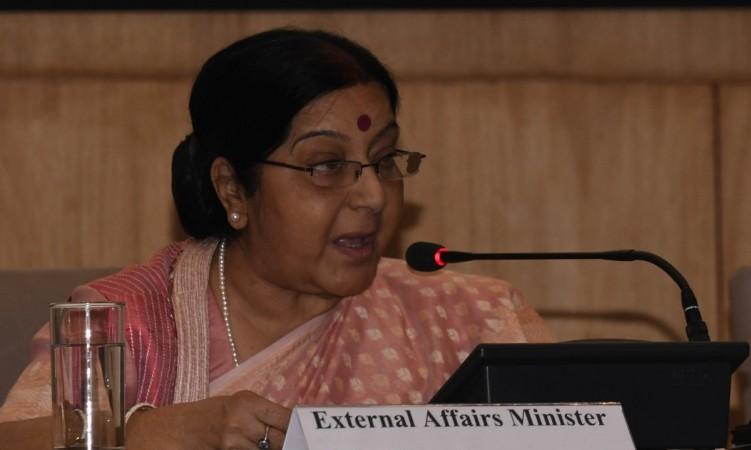 Congress' attempt to get Sushma Swaraj branded as a "failure" in her job as the external affairs minister backfired after Twitter users refused to consider the death of 39 Indians in Mosul as her fault.
The official Twitter handle of Indian National Congress conducted a poll Monday to assess Swaraj's "failure" as a foreign minister in handling the case of 39 Indians killed in Iraq.
Do you think the death of 39 Indians in Iraq is Sushma Swaraj's biggest failure as Foreign Minister? #IndiaSpeaks

— Congress (@INCIndia) March 26, 2018
Swaraj and the BJP government have been facing criticism in the hands of the opposition party and have also been accused of misleading the kin of the 39 people and hiding facts from them for almost four years.
However, the Twitter poll by the opposition party trolled the Congress itself when Swaraj retweeted the poll.
33,879 Twitter users responded to the poll and 76 percent said that the death of 39 Indians in Iraq is not Swaraj's biggest failure as the EAM.
Around 2.7 k people liked the post by the Congress and it has been shared by 3,131 people.
Several fans of Swaraj took it upon themselves to troll Congress.
Guys just stop embarrassing yourselves @INCIndia
Every poll you conduct gives you the same result over and over again
That Congress suffers from a trust deficit and a leadership deficit and must leave behind Gandhis and Divide and Rule policy if you want to survive beyond 2020?

— Dr Sankalp (@DrSankalp2) March 26, 2018
which is biggest failure

— Tarini_Sardesai? (@GanwarRavish) March 26, 2018
A few even slammed Congress for its failures.
Do you think the massacre of thousands innocent Sikhs are the biggest one of independent India during CONgress government?

— मुमुक्षु? (@Pratyangira1) March 26, 2018
Only you are the biggest failure for India..CONGRESS IS THE BIGGEST FAILURE

— ek or bhakt ☺ (@richavinodjoshi) March 26, 2018
On March 20, Swaraj told the Rajya Sabha that all the 39 Indians, who have been missing in Iraq since 2014, have been killed by the terrorists of the Islamic State of Iraq and Syria (ISIS).
The 39 Indians, mostly natives of Punjab, were working on various projects near Mosul when they were kidnapped. She had added that DNA matches have already been made for 38 bodies and the last one is being examined.