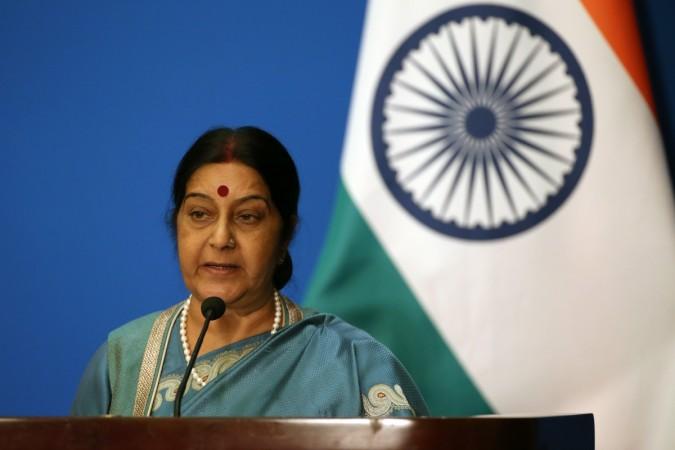 All the 39 Indians, who have been missing in Iraq since 2014, have been killed by the terrorists of the Islamic State of Iraq and Syria, Minister of External Affairs Sushma Swaraj told the Rajya Sabha, Tuesday, March 20.
The 39 persons, mostly from Punjab, were working on various projects near Mosul when they were kidnapped.
Giving out more details, Swaraj said that their bodies were exhumed from a mass grave in Badush and were sent to Baghdad for examination. Two bodies reportedly had had long hair and wore kada.
The minister of external affairs also said that DNA matches have already been made for 38 bodies and the last one if being examined. She explained that once the procedure and formalities are completed, minister of state general V K Singh will go to Iraq and bring back the bodies.
A two-minute silence was also observed at the Rajya Sabha.
Swaraj had earlier said that she would not declare the missing Indians dead unless she had solid proof to back her claim. "It is a sin to declare a person dead without concrete evidence. I will not do this sin," Swaraj said in a statement in the Lok Sabha in 2017.
This is saddening for every Indian, rest I would ask why was this information delayed by the govt, they should tell how it happened, when they died. Also, the way govt gave high hopes to the families was not right: Shashi Tharoor, Congress on death of 39 Indians in Iraq's Mosul. pic.twitter.com/dZ3EGVtwYh

— ANI (@ANI) March 20, 2018
The Parliament witnessed quite some ruckus after Swaraj spoke of the matter and the Opposition members are said to have raised slogans at the Rajya Sabha.
Loud slogans raised by opposition as EAM Sushma Swaraj seeks permission from Lok Sabha Speaker to deliver statement on death of 39 Indians in Iraq's Mosul, says, 'It is something sad that I want to tell the house and it cannot be done in this ruckus.' pic.twitter.com/dQ7k2ZdLWH

— ANI (@ANI) March 20, 2018
This is not proper, do not be so insensitive, please do not indulge in such politics! : Lok Sabha Speaker to MPs raising slogans when EAM wanted to deliver statement on death of 39 Indians in Iraq's Mosul pic.twitter.com/fHrQ5XlKAF

— ANI (@ANI) March 20, 2018
Shattered at the heart-wrenching news from @SushmaSwaraj that the 39 Indians missing in Iraq, most of whom were Punjabis, are dead. My heart goes out to the families who had been living in hope since their reported abduction by ISIS in 2014. Prayers with all of them.

— Capt.Amarinder Singh (@capt_amarinder) March 20, 2018
The 40 Indians were kidnapped on June 11, but one of the captives had managed to dodge the ISIS militants and fled. Harmit Masih had at the time said that the others had been shot dead.
A search operation for the missing Indians was immediately launched and DNA samples of family members of the 39 Indians were collected from Punjab. Some of the relatives, who were unaware of the details of the procedure, thought that the officials had called them for a medical examination reported the Times of India reports. However, there were others who were aware of the matter and hoped that their loved ones would be found.