Congress MP Shashi Tharoor, who is an accused in the death of his wife Sunanda Pushkar, moved an anticipatory bail plea in a sessions court in New Delhi, on Tuesday, July 3.
Additional Sessions Judge Arvind Kumar listed the matter for further hearing on Wednesday. The judge also sought a response from the Delhi Police on Tharoor's plea.
The 62-year-old parliamentarian from Thiruvananthapuram was listed in a charge-sheet filed by the police in the investigation of the murder of Sunanda Pushkar, which the court took cognisance of on June 5. Tharoor has been asked to appear before Additional Chief Metropolitan Magistrate Samar Vishal on July 7.
In the charge-sheet, Tharoor is accused of cruelty and abetting the suicide, which the court said provided sufficient grounds for his arrest. He is the only accused in the 3,000-page charge-sheet.
Pushkar, 51, died under mysterious circumstances in a hotel room in South Delhi on January 17, 2014. Two days prior to her death, she accused her husband of having an affair with a Pakistani journalist Mehr Tarar on social media.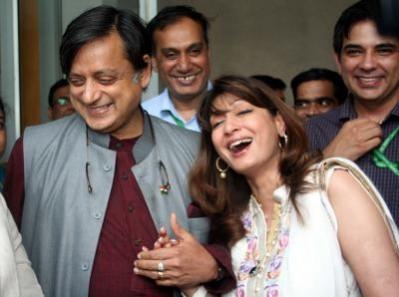 A Special Investigation Team was assigned the case and found that the couple, who got married in 2010 had frequent fights. Further investigations revealed that Sunanda was sliding into depression, and despite her attempts to reach her husband, he would not help her, ignoring her calls and not responding to her messages.
The charge-sheet alleges that while there was no evidence of murder, Tharoor had driven his wife to commit suicide.
At the time of the murder, the police registered a murder case believing Sunanda to have been poisoned but did not name a suspect.
In response to the charge-sheet, Tharoor took to Twitter, claiming the charges were "preposterous and baseless", saying they were the product of a malicious and vindictive campaign against him, and that he will "vigorously contest".
[With inputs from IANS]