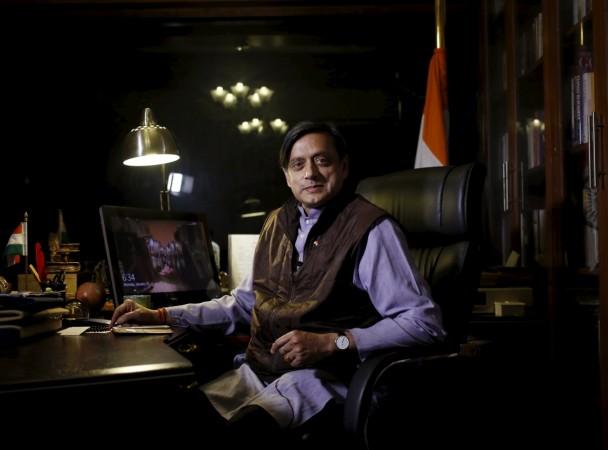 Delhi Police have filed a chargesheet against Congress leader Shashi Tharoor on charges of abetment of suicide in the death of his wife Sunanda Pushkar. The chargesheet against Tharoor was filed before Metropolitan Magistrate Dharmender Singh at the Patiala House court.
The chargesheet has been filed under sections 306 (abetment of suicide) and 498-A (husband or relative of husband of a woman subjecting her to cruelty) of the IPC. An FIR under section 302 (murder) of the Indian Penal Code (IPC) was filed earlier against Tharoor. The investigators have now concluded that the death of Pushkar was a case of suicide and not a murder.
According to News 18, the chargesheet states that Pushkar may have reportedly taken her own life as there was a marital discord. The next date of hearing for the case is likely to be May 24.
Soon after the chargesheet was filed, Tharoor took to Twitter to voice his opinion on the case.
I have taken note of the filing of this preposterous charge sheet &intend to contest it vigorously. No one who knew Sunanda believes she would ever have committed suicide, let alone abetment on my part. If this is conclusion arrived at after 4+ yrs of investigation," Tharoor tweeted.

"It does not speak well of the methods or motivations of the Delhi Police. In oct 17, the Law Officer made a statement in the DelhiHighCourt that they have not found anything against anyone & now in 6 months they say that I have abetted a suicide. unbelievable!" he added.
The day Sunanda Pushkar died
Pushkar was found dead inside the room of a prominent five-star hotel in New Delhi on January 17, 2014. According to initial reports, it was Tharoor who found Pushkar's body and informed the Delhi police.
Her body was soon sent for postmortem. The initial reports suggested that Pushkar may have taken her own life. However, a few injury marks were also found on her body that made the authorities believe that it may not have been a suicide.
Following this, the autopsy report suggested that Pushkar may have died after overdosing on drugs. Investigations ensued for a long time to ascertain whether the cause of death was suicide or murder.
Based on such reports, the police had registered a murder case on Pushkar's death and refrained from naming any accused.
1/2 I have taken note of the filing of this preposterous charge sheet &intend to contest it vigorously. No one who knew Sunanda believes she would ever have committed suicide, let alone abetment on my part. If this is conclusion arrived at after 4+ yrs of investigation, (contd.)

— Shashi Tharoor (@ShashiTharoor) May 14, 2018
2/2) it does not speak well of the methods or motivations of the Delhi Police. In oct 17, the Law Officer made a statement in the DelhiHighCourt that they have not found anything against anyone & now in 6 months they say that I have abetted a suicide. unbelievable!

— Shashi Tharoor (@ShashiTharoor) May 14, 2018
Sunanda Pushkar death case: Delhi Police files charge-sheet in Delhi's Patiala House Court. Charge-sheet filed under section 306 and 498A

— ANI (@ANI) May 14, 2018
All witnesses & documents were destroyed by UPA govt & corrupt police. On basis of current evidence this is what could be done. More info will come during trial. There are allegations on Shashi Tharoor that he forced his wife to commit suicide: S Swamy on #SunandaPushkar case pic.twitter.com/hR4rjKQKsl

— ANI (@ANI) May 14, 2018
On the basis of medico-legal&forensic evidence analysed during investigation as well as opinion of Psychological Autopsy experts, Sunanda Pushkar case investigated by SIT of South District, has been charge-sheeted u/s 306/498-A IPC. The matter now is sub-judice: Delhi Police Spox pic.twitter.com/fdoooaBIzK

— ANI (@ANI) May 14, 2018