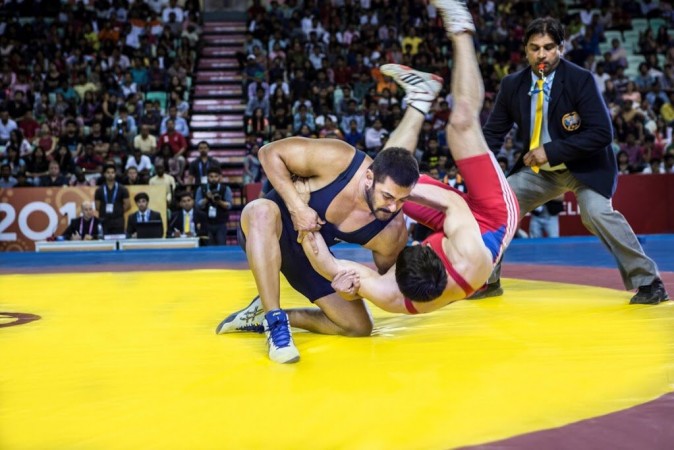 Director Ali Abbas Zafar's Bollywood movie "Sultan," starring superstar Salman Khan, Anushka Sharma and Randeep Hooda, has received positive reviews from audience around the world.
Read: Sultan Review | Critics Review | Celebs Review | Box Office Reports
"Sultan" is a sports-drama film with a good dose of romance, music and emotional quotient. Director Ali Abbas Zafar has written the story, while producer Aditya Chopra has penned the screenplay for the movie, which deals with the story of heart, passion and grit in Sultan Ali Khan, a wrestler from Haryana. It is about how Sultan brings to life his story of love and determination against all odds.
Read: Sultan 2 days collection report
Sultan Ali Khan (Salman Khan) is a wrestler from a small town in Haryana and he has problems in his professional and personal lives. How he fights against all odds to achieve global fame, winning bouts at the 2010 Commonwealth Games in Delhi, the 2011 FILA Wrestling World Championships in Istanbul and the 2012 London Olympics, forms the crux of the story.
Check: Sultan Funny Mistakes Photos
The audience say "Sultan" has an interesting story that offers a brilliant message to the public. Aditya Chopra has created an arresting screenplay and he has embedded some commercial ingredients that make the film a good entertainer. The director has a good grip on the narration, which keeps viewers engaged throughout the movie.
Check: 5 Reasons to Watch Sultan | Sultan Stills | Posters | Trailer Launch Photos
As a wrestler, Salman Khan has delivered sterling performance and his hard work is clearly visible. In fact, "Sultan" is his show. Anushka Sharma has also put in a lot of effort and has done justice to her role. The chemistry between the two is the highlight of the movie. The performances of Randeep Hooda, Suzi Khan, Amit Sadh and Tyron Woodley are also assets of the film, say the viewers.
"Sultan" has been produced with a whopping budget by Aditya Chopra under his banner Yash Raj Films. The movie has superb production elements. Vishal-Shekhar's music and background score, Artur Zurawski's cinematography, choreography of wrestling scenes and punch dialogues are the attractions on the technical front, add the audience.
We bring you some viewers' verdict on the film shared on Twitter. Here is the live update of "Sultan" movie review by audience:
Sreedhar Pillai ‏@sri50
#Sultan 3.5/5. Adrenaline pumping & motivational sports film. @BeingSalmanKhan extraordinary knockout performance makes it a winner. #AliAbbasZafar in his 3rd film as director has proved he has the stuff, dialogues by #AdityaChopra r really good.Well packaged. romantic story set against wrestling background with a emotional touch. Loved the romance between #Salman & #Anushka. Haryanvi English that @BeingSalmanKhan speaks is a rocker & dance movements in the song Jag Ghoomeya terrific. Downside- length ,170 minutes, some shots are repetitive, for a sports film it has to cut the flab.On the whole Paisa Vasool
Faridoon Shahryar ‏@iFaridoon
Ali Abbas Zafar,take a bow! What an incredbly moving story seeped in d soil of d rural India.U can smell the fragrance of Desi Magnificence! #Sultan grips u 4m d beginning n doesn't let go off u till its over.I experienced sumthing similar in #Sairaat.I remained glued till d end! Through #Sultan Salman Khan does more for the girl child n women empowerment than many of the tom tommed schemes...Hats off!! Salman Khan delivers his career best performance in #Sultan by a long distance.He is competng Only wid himself.The film is him in real life! Physical transformation,the guts 2 show ponch,the eye-of-the-tiger hunger 2 surprise n exceed expectations,#Sultan gets d best out of Salman In a Salman film actresses generally get overshadowed but Anushka has a v powerful role in #Sultan n she digs in it with ferocious manicness Anushka acts tuf.She looks,behaves n wrestles on real terms.She shares an effortlss ease with Salman.She'll find many new fans post #Sultan. Music by Vishal-Shekhar is very good.It is an integral part of the film.My favourite is #JagGhoomeya n it is v imp in the context of #Sultan Amit Sadh is very earnest,Randeep Hooda sparkles in a cameo.He's damn good.Kumud Mishra is excellent as expected #Sultan If you want to get entertained,charmed,thrilled n moved by a story smelling of desi mitti,then don't miss #Sultan 4 anything.Enjoy!!
KRK ‏@kamaalrkhan
It's interval n what a beautiful and brilliant love story #Sultan! It's going to be sure shot super hit. What a let down 2nd half of #Sultan! I can't believe tat Ali n @yrf have guts to use total 2nd half of film #brothers without any hesitation
Sumit kadel ‏@Sumitrajkadel
#Sultan Ist half is engaging, lots of funny moments, action ,& emotional angle. 2nd half is very predictable but screenplay is tight. #Sultan some may or may not like @BeingSalmanKhan haryanvi accent but he acts good. @AnushkaSharma is superb . Direction is good #Sultan over all this movie is way better then #PRDP but nowhere close to BB . This movie is better then kick and ETT . Watch it 3.25/5
Uttam ‏@blesseduttam
#Sultan has excellent dialogues.great performance by salman and anushka.must watch.very meaningful.full marks.
Rohit Vats ‏@nawabjha
#Sultan | The director has worked on the backdrop. Anushka Sharma's training is paying off. It's a long film though. #Sultan | What's a Bollywood film without cliches. This one is also not devoid of them. Salman Khan's superstardom is at work though. From Haryana to London to Delhi, #Sultan travels places. Randeep Hooda's powerful presence ups the thrill quotient. #Sultan | Aditya Chopra's screenplay is the best thing about this film. Freestyle fight choreography is another good thing.
Aditya Chowksey ‏@AChowksey
#sultan has Indian kusti as it's backdrop and is soaked in Hindustani emotions, makes u laugh, cry and clap, a commercial masterpiece #sultan, young@aliabbaszafar emerges has a masterstoryteller, salman, like old wine gets only better with time, anushka stands tall. #sultan is rooted in Indian soil, written in tears and blood, a universal film with special appeal for womenfolk. #sultan, is a love story between a man hidden in the heart of a woman and a woman hidden in the heart of man,
Shiva Satyam ‏@AsliShiva
It's Interval for #Sultan & So far it is "terrific, terrific & terrific"●◆●◆● @BeingSalmanKhan's best performance till date. #Sultan Music,Cinematography,Locations Screenplay,Editing,Action is "Fabulous".It has beautiful sweet emotional story of a man wins world. Overall #Sultan is complete entertainer film, which will break Box Office Collections record of #Pk, & "A Must Watch Film", My Ratings: 5*●
AAVISHKAR ‏@imaavi
#Sultan is a power packed full on Family entertainer. Salman's entry scene and Climax are clap worthy . 4* 1/2 1st half is simply outstanding while 2 nd too has its fine moments.This one is a Sure Shot WINNER! #SultanReview #Sultan 4* 2/2
Kushal Dave ‏@davekushal29
Just watched #Sultan .Power-packed performance by @BeingSalmanKhan & @AnushkaSharma. Brilliant film Fun,emotion,drama,everything.must watch!
Nikhil Dwivedi ‏@Nikhil_Dwivedi
Stunned aftr watching #Sultan. An adrenaline rush tht ll set unprecedented benchmarks at the box office. @BeingSalmanKhan @50 @top of his game. He is #Sultan. Period @AnushkaSharma u r brilliant @RandeepHooda @TheAmitSadh u guys add so much
Vinay Upendra ‏@Vinay_Upendra
#Sultan Has Everything. Action, Love, Pure Romance,Comedy, Emotions,Message- "Never Give Up" & "Never Let Success Get to Ur Head" #SultanDay
Chirag Gandhi ‏@ChiragPG7
Just saw movie #Sultan great,extraordinary work from @BeingSalmanKhan and @AnushkaSharma is really paying off ....loved it.......