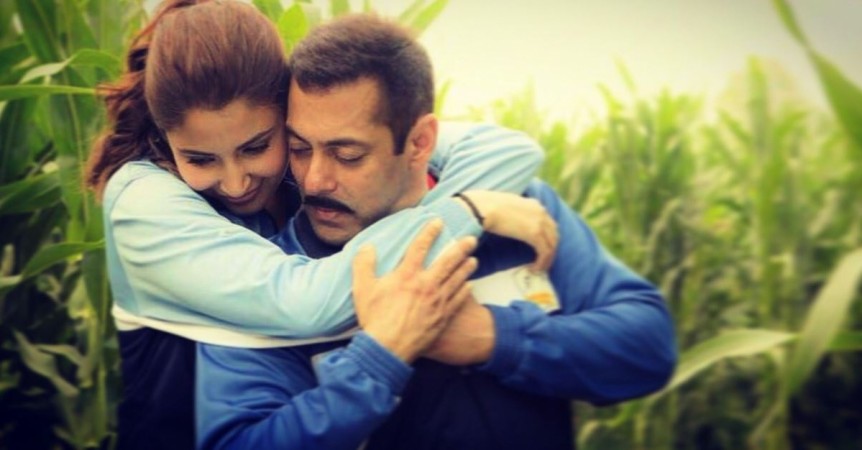 Salman Khan's "Sultan" is out in the theatres and critics review suggests that the film is worth a watch. Critics have said that Salman shines again in yet another Eid release. Also, insiders, who watched the film in a special screening held on Tuesday night, have given a thumbs up to the film in their review.
"Sultan," directed by Ali Abbas Zafar and produced by Yash Raj Films, is a romantic action drama starring Salman and Anushka Sharma as the wrestlers and Randeep Hooda and Amit Sadh as the supporting characters.
Sultan trailer launch | Sultan movie poster | Reasons to watch Sultan
Get the live update on "Sultan" review here.
Insiders and critics have said that the sports drama is emotional as well as real. Salman, as usual, is at his best in the film and is all set to surprise audiences with his raw performances. Director Ali Abbas Zafar has impressed insiders with the storyline and direction. But fans might be left a little bit disappointed as there are only a few wrestling scenes in the first half.
Overall, the film has garnered good reviews from the insiders and critics. "Sultan" is a perfect treat for Salman's fans this Eid, feels the reviewers.
Read below what critics and insiders have said about Salman-Anushka starrer "Sultan."
Namrata Joshi of the Hindu said: "The artificial divide of the interval renders the film into two distinct, disjointed halves."
Shubhra Gupta of the Indian Express said: "Sultan is an entertainer with heft. Salman Khan aces it with a full-bodied, fully-earned performance in the movie and is ably supported by rest of the cast."
Srijana Mitra Das of the Times of India said: "So, this is the first movie where Salman Khan takes off his shirt and everyone - including Khan - shudders. Portraying Sultan, who goes from being fit and lean to a gloomy, middle-aged, paunch-burdened man, Khan performs with elan and unhappiness, his acting giving Sultan a nice, rounded punch."
Ananya Bhattacharya of India Today said: "At the end of the day, however, Sultan is a Salman Khan film. Probably every flaw is worthy of being overseen thanks to the sheer aura of the man. The Salman who makes people stand up and scream and shout his name right in the middle of an MMA (Mixed Martial Arts) sequence. Watch Sultan for Salman Khan."
Nandini Ramnath of Scroll.in said: "Every frame of Sultan will have deep significance for Khan's numerous fans, who have stuck by Hindi cinema's notorious prodigal son despite his frequent off-screen controversies."
Surabhi Redkar of Koimoi.com said: "This is an out and out commercial film that has its moments of outstretched realities. For those who enjoy drama, this is the perfect weekend watch!"
Tushar Joshi of BollywoodLife.com said: "Performances are top notch with both Anushka and Salman complimenting each other and the jugalbandi that leads up to their romance is highly endearing. Ali has made sure the wrestling looks real and it doesn't feel too choreographed."
Rohit Vats of Hindustan Times said: "Sultan has all the right ingredients of a 'masala' potboiler, and whistling and sobbing are likely to go hand-in-hand here. Don't go looking for a twist ending, though."
Shomini Sen of News 18 in her tweet review said: "So far the Haryanvi dialect is being used perfectly in the film by all the actors. #Sultan"
Zee News reviewer Raghav Jaitly said: "Journey of #Sultan begins. Salman Khan at his best. Godly physique, firm determination and killer training: thats how champions are made. Salman #Sultan Khan enters with a bang. On-screen or off-screen, crowds go crazy. Whistles, cheers everywhere."
"Post Sultan, director Ali Abbas Zafar is surely going to become one of the most sought after directors in Bollywood. The director has shot the film brilliantly and also made sure justice is done to the story. The script is the King of the film," BollywoodLife.com quoted an insider as saying.
Film critic Anupama Chopra review: