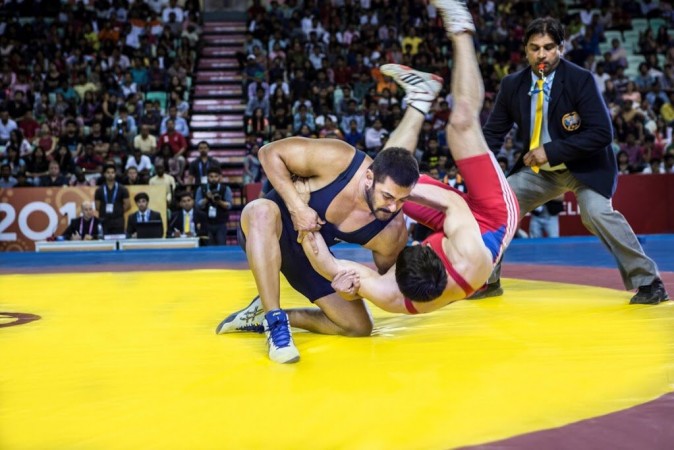 Review: 3.5
Films starring Salman Khan usually have a prerequisite: Keep you brains outside the cinema hall. "Sultan," however, has something different to say: Take care of your heart, because it will well up with emotions.
Yes, this Salman Khan movie does leave a mark, but Salman Khan alone does not get to be the sole earner of the praise. It is divided equally between the story, the screenplay and the direction, with Ali Abbas Zafar being the recipient in all three fields.
Credit also goes to Rameshwar S Bhagat for some really snappy editing that puts us in the thick of the action, and does not let the audience realise — even for a second — that Salman is not throwing or receiving the punches and kicks. He can share that with the stunt-coordinator and the cinematographer, where the work is equally snazzy.
Also, for once, Salman is not the superman he is depicted as the superhero-minus-the-cape he plays in other films. His punches do not instantly fell a giant, although his kushti moves do. Instead, he shows a couple of moments of vulnerability and tenderness that we had started to think had long been lost.
Yet, Salman as Sultan Ali Khan is not the best actor on the screen. His moment does come, however, like the scene where he finally acknowledges his paunch, and by extension who he has become. Anushka Sharma as his love interest Arfa and Kumud Mishra as his coach and her father are somehow way ahead. Even Anant Sharma, who plays Sultan's friend Govind, is worth a mention. Amit Sadh, as the owner of a wrestling competition, is mostly wooden, while Randeep Hooda as the mixed martial arts coach is quite believable.
Vishal Shekhar's music is one of the positives of the film. Although it seems a tad overused at a couple of places, it does provide for a gelling leitmotif for the narration, which never seems to lose pace. Another interesting aspect — again something that is quite unusual for a Salman Khan film — is the exaggeration of the drama. Even the cute scenes at the end with little Suzi Khan of the viral video fame are not mawkish.
[Spoiler Alerts]
Thus, when a badly bruised Sultan finally gets up and faces his symbolical self, it does not seem too outlandish or like a deus ex machina. As an aside, the scene does bear some resemblance to something the funnymen at The Viral Fever had depicted in a video.
So why does such a film not receive full marks? For starters, there are indeed some scenes that could have done with better editing and direction. Also, the logical fallacies get in the way of a very smooth film. For example, how come Sultan is initially so bulked up despite never having worked out? Or how come he is one of the fastest at catching kites despite so much upper body mass, which is traditionally a deterrent for fast runners? And finally, how come he is able to learn wrestling and mixed martial arts in a matter of a month or so, while maintaining no strict diet?
Also, with a runtime of 2 hours and 50 minutes, this film feels like an Ashutosh Gowarikar marathon at times, but only just.
[Spoiler Alerts End]
In the end, "Sultan" is more a sports film than a Salman Khan movie, and the actor deserves a little less flak for his on-screen appearances after this.