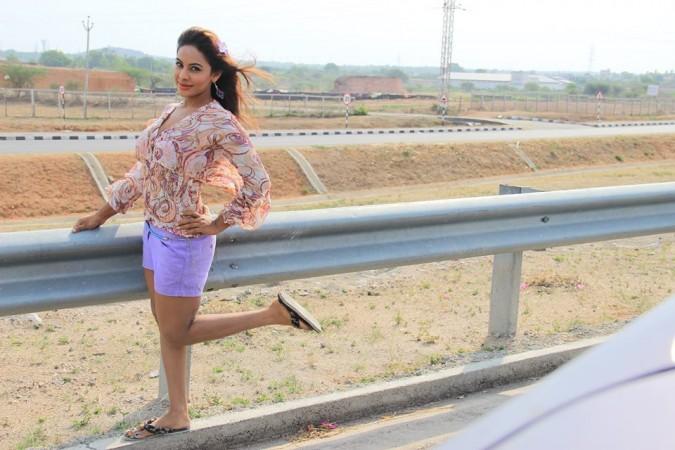 Kona Venkat is the latest celebrity to be accused of sexual exploitation by Sri Reddy. After naming a couple of Tollywood's big names, including Abhiram Daggubati, the budding actress has now pointed her finger at the leading writer and director.
Sri Reddy revealed Kona Venkat's name in a debate on Telugu TV channel Mahaa News. The actress claimed that Kona Venkat had asked her to meet at a guest house and promised to introduce her to VV Vinayak. The actress claims that he sexually exploited her.
Some screenshots of their conversation are doing rounds on social media. The actress claims that she has two more big names and will reveal in the next few days.
Kona Venkat has responded to her allegations on Twitter and demanded the government to hold an inquiry. He wrote, "I'm shocked with some allegations made by one actress against some film personalities including me.. I demand the government to conduct through police investigation in these allegations and punish whoever are guilty.. Truth must prevail legal action follows!! [sic]"
He claimed that the film industry has become a "soft target" for people to gain cheap publicity. He added, "It's really pity that film industry and film personalities have become soft target to many people who are trying to gain cheap publicity... I definitely support taking Telugu artists in our films.. In Geethanjali u find only Telugu artists. But this is unacceptable. I condemn it. [sic]"
Who are all the other celebs who are dragged into the controversy?
Sekhar Kammula: Sri Reddy had indirectly claimed that he was involved in casting couch. The director responded to her allegations and threatened to take legal action. Here is his statement released on Twitter:
"APOLOGIZE and take back every word that was posted against me or be ready to face legal action, which will include criminal/civil proceedings

People who know me and my work would be aware of the kind of importance I give to equality of women and their empowerment. I live by my CHARACTER and die by it. I will not spare anyone who tries to point fingers at it.

"Whatever might be their intentions and whoever might be involved in this diabolic act , I would like to say that it is WRONG, IMMORAL and CRIMINAL. [sic]"

He further added: "I could never imagine in my wildest dreams that a woman whom I don't know, have not seen or never spoken to in person or on the phone can suddenly make these baseless allegations. [sic]"

"Yesterday a social media post maligning me came to my notice. It is vulgar, demeaning and full of lies. It has caused deep grief to my family, to me and many more who value me. [sic]"
Sreeram Chandra: Sri Reddy accused him of sending lewd messages. The actress has shared screenshots of their alleged conversation on WhatsApp. In the chat, the singer is seen expressing a desire to meet her, while also making comments on her "butt." Sreeram Chandra had also allegedly requested her to share photos of her private parts. She had posted a few photos.
Abhiram Daggubati: The biggest allegation from Sri Reddy came against Abhiram Daggubati, the son of leading producer Suresh Babu and younger brother of Rana Daggubati. Here is what she told a Telugu TV news channel:
Suresh Babu's son cheated me so badly. The studio belongs to the government and it is meant to help and support talented people. They have to use it in a proper way. This Suresh Babu's son took me to the studio and f****d me so badly in the studio only.