Telugu actress Sri Reddy is on a spree of leaking flirty and sleazy Whatsapp chats between her and popular personalities in the industry, including Suresh Babu's son Abhiram Daggubati.
Sri Reddy made a shocking revelation recently saying that popular producer Suresh Babu's son Abhiram, who is brother of actor Rana Daggubati, sexually exploited her. While pictures of the two sharing some intimate moments have already been leaked by the actress, she has also released a number of screenshots of Whatsapp chats, apparently between her and Abhiram.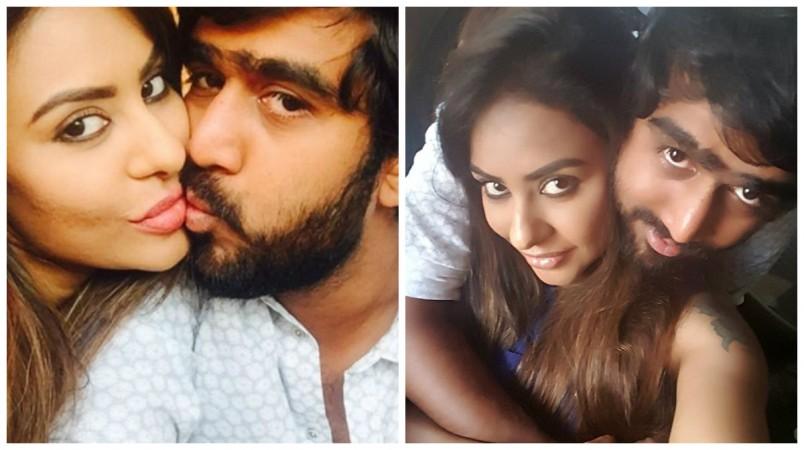 The screenshots show the person's name saved as "Abhiram Devil" and the contact's Whatsapp Display picture appears to be that of Suresh Babu. The chat between Sri Reddy and the other person is highly intimate and personal in nature.
In some of the messages, the two are seen having a conversation about sex, ex-lovers and virginity. Abhiram is seen asking Sri Reddy to talk about her past affairs. Addressing each other as "babe", the duo talked about meeting each other, spending time together and a lot more.
Check the screenshots of Whatsapp chat between Sri Reddy and Abhiram: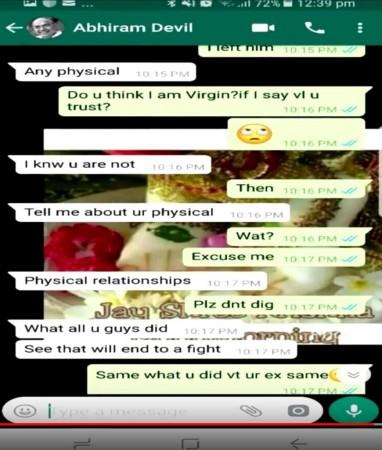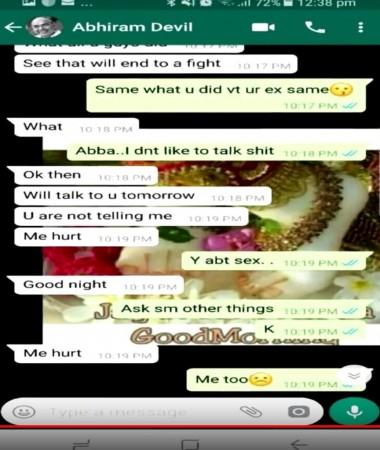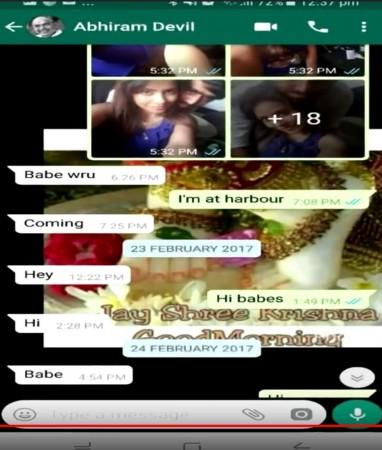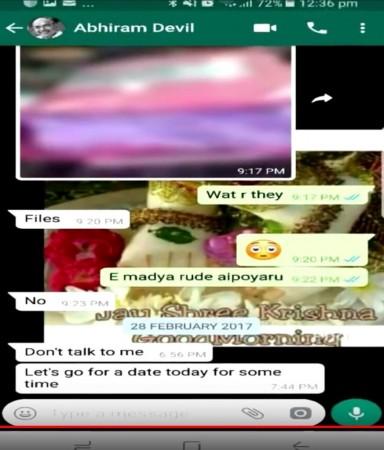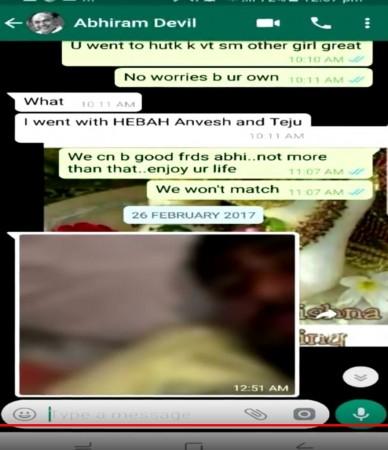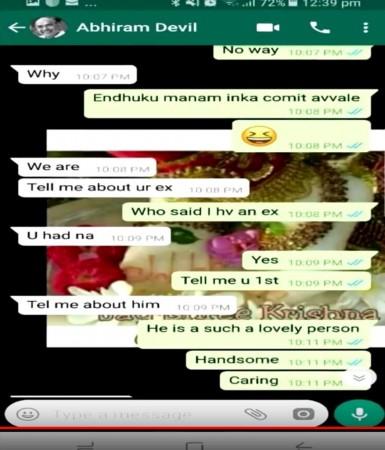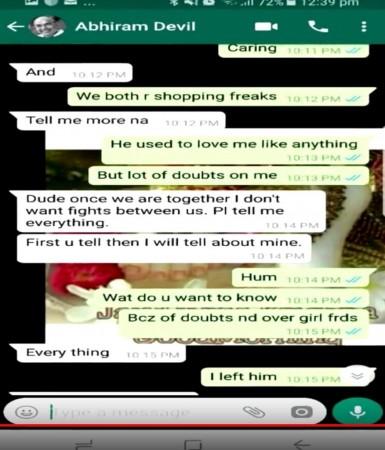 However, none of the messages suggest Abhiram forced Sri Reddy to be in a physical or emotional relationship.
Sri Reddy also revealed a number of Whatsapp chats with other prominent people in the Telugu industry. Some of the texts are highly sleazy and flirtatious in nature.
The bold diva shared the screenshots of messages on Facebook that she had apparently with singer Sreeram Chandra. She shared the images with the caption saying, "Look at our Indian idol chat..shame on u sri ram..remove sri ram from ur name..u r not worth to have it".
In the messages, Sreeram is seen asking Sri Reddy to send him some of her "personal hot pics", while giving her the nickname of "Nikki Minaj", apparently praising her butt and cleavage.
Check the screenshots here: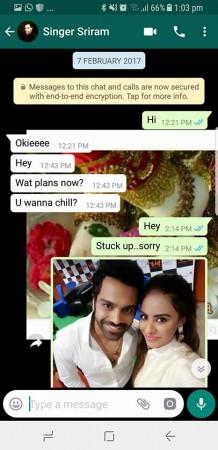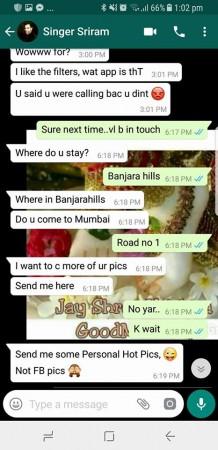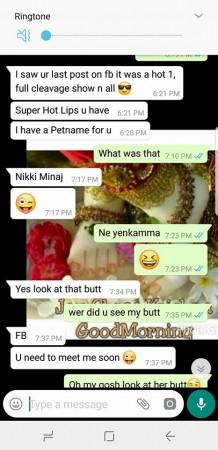 The name-shaming doesn't stop here as some reports have come up that claims to have screenshots of private chats between the actress and a well-known script and dialogue writer from the industry.
In the message, the person is seen addressing Sri Reddy as "sweetie" and texting her late at night. Although the report in Telugu 360 didn't reveal name of the celebrity, it gave a hint saying that the script writer has recently turned a producer.
In another recent instance of Sri leaks in the same publication, the controversial actress apparently revealed chat messages with a popular director, who addressed Sri Reddy as "baby" and trying to be romantic with her.
International Business Times (India) couldn't verify the authenticity of the messages.
Sri Reddy had created a storm in the Telugu industry after she had gone topless publicly in front of Movie Artistes' Association (MAA) office in Hyderabad, in protest against alleged casting couch.
She had alleged that Tollywood film-makers sexually exploited her in pretext of giving her roles, but later broke their promises. Since then, the actress has been after some of the top figures from the industry.
Meanwhile, Movie Artistes Association (MAA) has banned Sri Reddy from the body, and stated that any actor who would work with her, will also be removed from the association. MAA had taken the decision after the actress' strip act.
Addressing the media, said: "This kind of an incident has never taken place since the beginning of the Telugu film industry. All the ladies are treated with a lot of respect in the industry and they are considered members of a family. The industry has maintained this respect toward all," actor Meka Srikanth had said while addressing media.
However, Sri Reddy remained adamant in her stand, and said that she would fight it legally.
"By denying me membership and preventing other artistes from working with me, they are sending out a message to all women that this is what will happen to them if they speak up about the harassment and abuse that they face. But I will not be deterred. Let them bring their lawyers, I will bring mine," she was quoted as saying by a leading publication.
While Sri Reddy's bold move has even attracted international media's attention, she has been getting mixed response from people on social media. Some are praising her for speaking up about such a serious issue, some others are criticizing her, calling it a publicity gimmick.
Nonetheless, the struggling actress has hogged immense limelight, and wrath at the same time.