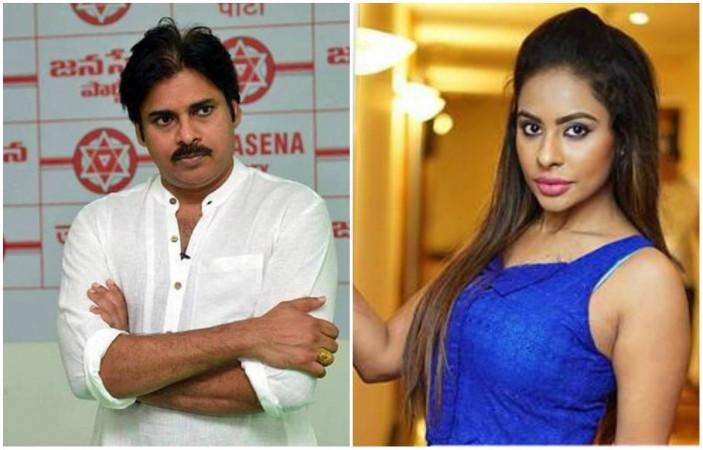 Actress Sri Reddy has been trolling Jana Sena party (JSP) chief Pawan Kalyan through funny memes for over a week. This act of hers has raised several eyebrows that she must be trying to move closer to either the Telugu Desam Party or the YSR Congress.
In view of no film offers forthcoming, Sri Reddy has heralded a strong protest against ignoring original Telugu actresses in Tollywood and she even requested power star Pawan Kalyan to support her fight and help more Telugu girls get work as heroines in the films. But the Jana Sena party supremo stayed away from the controversy.
When none from the Tollywood heeded her pleas, she changed her stance and started protesting against the casting couch issue and sexual harassment in the Telugu film industry. She went on to expose some celebs who sexually harassed her on a pretext of getting her offers in their films. Finally, the industry people woke up and decided to suspend her application for the membership in MAA (Movie Artistes Association).
When her protest created buzz in the national media, National Human Rights Commission demanded a report on the issue. The Telangana government, which came under pressure, ordered the MAA for an immediate action. The MAA revoked the ban on her and also decided to form CASH (Committee against Sexual Harassment).
Talking about this row, Pawan Kalyan had said that Sri Reddy should stop her protest. Instead, she should approach the police or court for help, if she wants to get justice, he had advised, triggering her to react showing her showed middle finger to the Jana Sena party chief. She even roped in his mother in the row. Later, she apologised to his mother after she faced a lot of criticism from media and people from Tollywood.
Talking about this controversy, Pawan Kalyan had alleged that Sri Reddy was a pawn in the hands of TDP, which is using her to defame his image. He had even gone on to provide some material as proof for it. On the other hand, his party members had alleged that the YSRCP is encouraging her to abuse him.
Ever since, Sri Reddy has been criticizing Pawan Kalyan and mega family. Though she has not identified with either YSRCP or TDP, she has been warning against criticizing YS Jagan Mohan Reddy, Chandrababu Naidu and his son Nara Lokesh. This has raised suspicion that she might plunge into politics and join any one of these two political parties.
All these days, Sri Reddy has been trying to be in news by making allegations against various people on her Facebook account and though she has stopped it for the last one week. Instead, she has been posting one funny memes on Pawan Kalyan every morning. She has not revealed the reason why she is targeting him, though.
Sri Reddy's latest activities on her Facebook account show that the actress must be setting her new political agenda on social media platforms, with less than a year left for the assembly elections in the Telugu states of Telangana and Andhra Pradesh.
After candidly admitting to sexual relationships with many film industry celebrities, Sri Reddy was able to garner sympathy from many quarters and movement has become one that echoed the #MeToo movement in Hollywwod last year.
Today, Sri Reddy has 6,027,723 follow on Facebook, and she is more popular than Mahesh Babu, who has 5,202,533 followers. She is ready to become the voice of oppressed female community. It remains to be seen whether YSRCP or TDP will ever give her a membership or not.