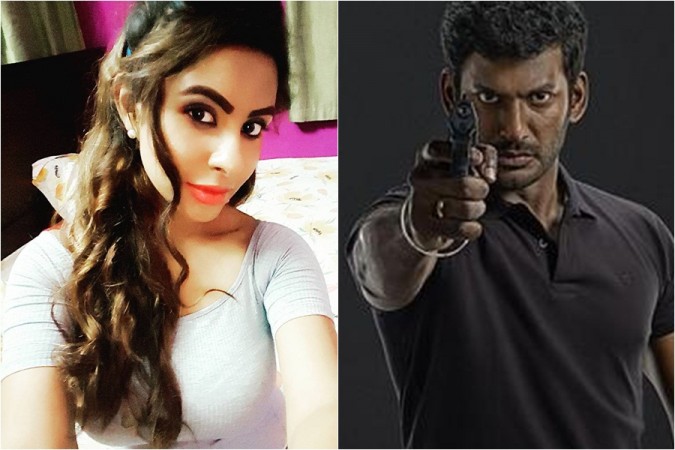 After making a series of casting couch allegations against Tollywood stalwarts, Sri Reddy has now targetted Tamil cinema and even revealed the names of some Tamil actors Srikanth and Raghava Lawrence and director AR Murugadoss. She claims that they sexually exploited her.
Sri Reddy has now claimed in a Facebook post that she would reveal dirty secrets of Kollywood but feels threatened by Tamil actor Vishal Reddy, who is also the president of the producers' council.
Vishal had earlier asked Sri Reddy to come forward with evidence of her accusations rather than just naming celebs.
"It seems like she's picking her targets randomly. For all we know, I might be the next one to be named by her," Vishal told IANS.
He added, "You never know who will be named next. I seriously think such grave allegations must be substantiated with evidence. Our laws about sex crimes are lopsided. Any woman can make the allegation and the law will act on that allegation and give the accused a chance to defend himself only later. This is not right."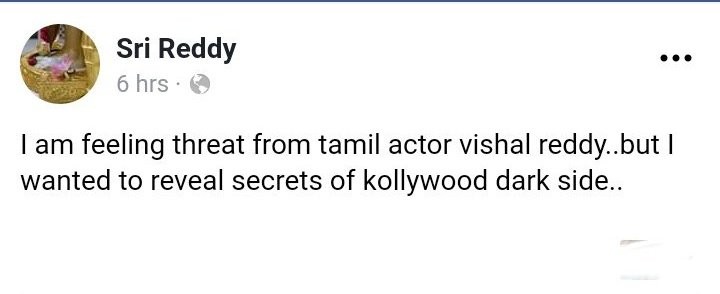 In an earlier Facebook post, Sri Reddy had expressed her disappointment and said that Tollywood has failed to solve the casting couch problem even after she exposed and named Abhiram Daggubati, Nani and Pawan Kalyan.
"Tollywood failed to solve this casting couch problems, they all r spoons of bigwigs they work fr big wigs only,girls are only sex workers fr them ,they wl not care about women problems..nd they didn't keep cash committee still..they declined to give the maa card fr the stupid reason,then maa assosiation has to tell me ,maa has 900 members na..u declined my maa card fr i hv a case on me..900 people in maa don't they hv cases on them ..drugs,cards,attempt murder,cheque bounces,cheating ,financial lot many..why still they have card??still tollywood bigwigs threatening
me..this shouldnt happen wt kollywood..I hope I wl get justice in kollywood..(sic)," Sri Reddy posted on Facebook.