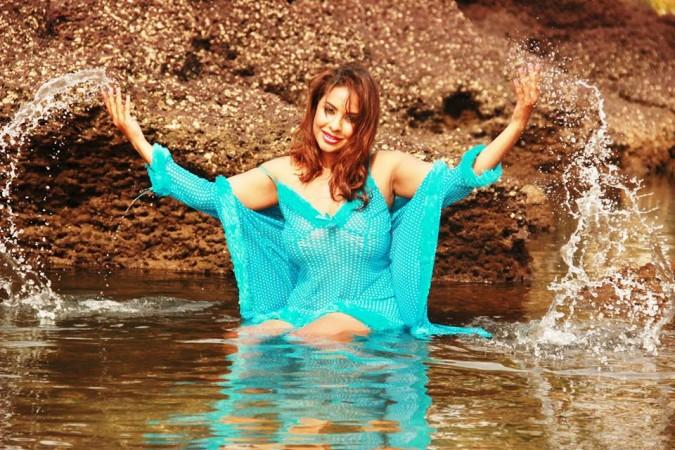 Actress Sri Reddy is unfazed by the decision of the Movie Artist Association (MAA) as she continues to make shocking revelations about casting couch in the Telugu film industry. She has now claimed that producer Suresh Babu's son Abhiram Daggubati used to force her to have sex with him at a government studio in Hyderabad.
Sri Reddy had approached media after failing to get film offers despite being a victim of casting couch and sexual harassment in Tollywood. She has already revealed the names of Viva Harsha and a couple of other celebs who allegedly demanded sexual favors for roles in films.
In an interview with News 18, Sri Reddy revealed that Suresh Babu's son had also sexually exploited her. A video which appears to be a clip from Sri Reddy's interview went viral on social media late Tuesday.
In the video, the actress is seen saying, "Suresh Babu's son cheated me so badly. The studio belongs to the government and it is meant to help and support talented people. They have to use it in a proper way. This Suresh Babu's son took me to the studio and f****d me so badly in the studio only."
Suresh Babu has two sons -- Rana and Abhiram Daggubati. But Sri Reddy did not reveal the name of the person. However, her statement came as a rude shock to the people in the film industry. Several speculations were made about the person who sexually exploited her and many guessed it as Abhiram.
Hours later, Sri Reddy appeared on a Telugu TV news channel and revealed that it was Abhiram. The actress also released photos which showed Abhiram in intimate positions with her.
"This is Suresh Babu's son Abhiram and I haven't revealed his name anywhere so far. Abhiram! Don't you feel ashamed? You know how you behave in the studio. I have showed proof that I have not revealed on any TV channel. See this photo, which clearly shows him kissing my face. Let all Dalit and women associations come forward, fight and give me justice," Sri Reddy told the Telugu TV channel.
Sri Reddy and Abhiram Daggubati's photos have gone viral on social media. Some social media users even condemned the actress for tarnishing the image of the film industry with new allegations on a daily basis. Some others also mocked the Daggubati family.
Rite Ramarao shared the picture and tweeted, "#SriReddy leaks intimate pics with Abhiram Daggubati, Son of Suresh Babu and Brother of Rana!!"
The actress claims that many filmmakers have asked her to send nude photos and videos. Despite fulfilling their requests, Sri Reddy was not given any role in their movies.
Sri Reddy has been making headlines since she made some serious allegations of casting couch in the Telugu film industry. When the film industry paid no heed to her allegations, the actress had stripped in front of the office of Telugu Film Chamber of Commerce in Hyderabad last week.
The MAA has made it clear that it will not accept her membership application and also said that actors who work with her will be suspended from the association.
The MAA had called a press meet in Hyderabad Sunday to make its stand clear to the public. "This kind of an incident has never taken place since the beginning of the Telugu film industry. All the ladies are treated with a lot of respect in the industry and they are considered members of a family. The industry has maintained this respect toward all," actor Meka Srikanth had said.