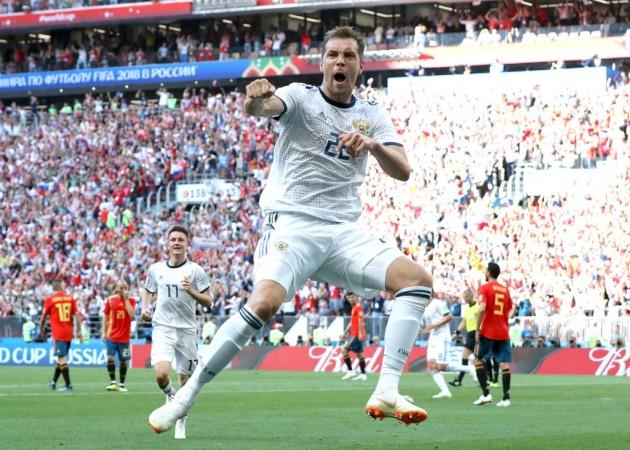 Hello and welcome to the live updates of the Round of 16 match of Fifa World Cup 2018 between Spain and Russia from Luzhniki Stadium in Moscow.
Live Updates
2018-07-0122:24 (IST)
Spain pay the price for sleep-inducing football!
Sergio Ramos is teary-eyed, Andres Iniesta, who has played his last World Cup match, is gutted.
Russia didn't get a single shot on target from open play throughout the 120 minutes but they are still living to fight another day. They will face the winner of the following Round of 16 tie between Croatia and Denmark.
Meanwhile, Spain who had 73% possession and 15 shots on target are taking the plane back home. They have to blame themselves for the lack of intent. It was all pass...pass...pass with no real purpose, especially after they got the first goal through Ignashevich's own goal in the 12th minute.
Gerard Pique gifted Russia the equaliser by using his hands to stop a header inside their box in the 41st minute. Russia never looked like they could score until the Barcelona man made the costly error.
Rodrigo injected some pace and test Akinfeev towards the end of the first-half of extra-time but the Russians managed to hold on.
When the match headed to the penalty shootout, the Russian fans rejoiced and at the end of it they went berserk.
Aspas and Koke missed their penalties and Spain were done and dusted. The La Roja campaign got off to a controversial start as they had sacked their former coach two days ahead of the World Cup opener. They scraped through to the knockouts but were under-par against the hosts who were supremely determined.
We leave with this telling stat!
191 - Russia ?? have eliminated Spain from the World Cup despite completing only 191 passes in 120 minutes !

Spain ?? have completed 1006 passes today, new record for a team since Opta started to collect this data (1966).

Punishment. #ESPRUS #WorldCup pic.twitter.com/MuYvJPaSgl

— OptaJean (@OptaJean) July 1, 2018
2018-07-0122:17 (IST)
Another huge upset in Russia!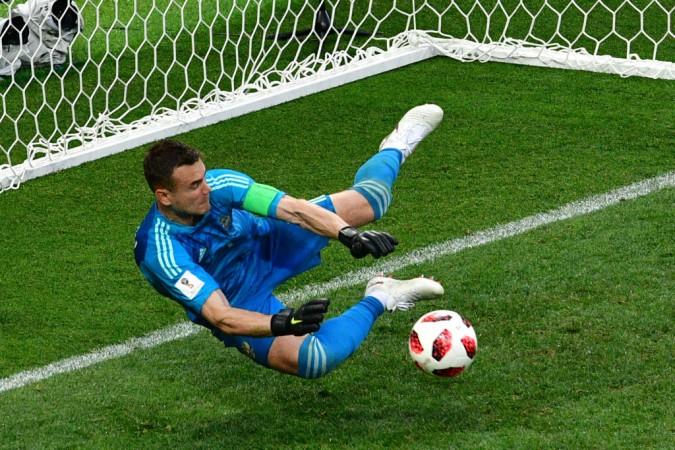 Another huge upset in Russia and this time the hosts play a part. The lowest-ranked team at the World Cup have knocked out the 2010 champions.
The Luzhniki Stadium erupts in joy. The Russian fans are going to party long into the night.
Koke and Aspas' shots in the shootout were saved by Superman Akinfeev, who was brilliant throughout the night.
2018-07-0122:13 (IST)
Spain knocked out, Russia through to the quarter-final!
Aigor Akinfeev is the hero for Russia. He makes two fantastic saves in the shootout as the hosts beat the 2010 champions on penalties.
Russia are in the World Cup quarter-finals. What a story this has been!
2018-07-0122:06 (IST)
Penalties: Spain are going to take the first penalty.
Veteran Andres Iniesta is going to take the first kick. He has beaten Igor Akinfeev. Spain take the lead.
2018-07-0122:03 (IST)
End of extra-time: We are going to penalties.
It's the end of the extra-time. Spain were unable to get the winner despite making some threatening moves in the exta-time.
It's raining and we have penalties. Grab your popcorn, guys!
The Russian fans are at their loudest best. Will Spain take the plane back home? David de Gea has not had the best of the World Cups. Can he become the hero now?
2018-07-0121:59 (IST)
119 min: It's raining is Moscow!
What scenes at the Luzhniki Stadium. It's raining now and we're seemingly heading to a penalty shootout.
2018-07-0121:56 (IST)
Extra-time 24 min: Spain claim penalty
Nervous moments for Russia and its fans. Sergio Ramos & Co. are running towards the referee, claiming a foul against the hosts inside the box after a free-kick fron the left. The referee consults the VAR but nothing off it.
Referee wants to live to eat dinner tonight.#ESPRUS

— Charles P. Pierce (@CharlesPPierce) July 1, 2018
2018-07-0121:54 (IST)
Extra-time 22 min: Rodrigo gives Spain the much-needed pace
Rodrigo leads another break. He runs up once again and tries to find Aspas but a crucial save by Granat.
2018-07-0121:50 (IST)
Extra-time 18 min: Akinfeev does it again for Russia
Russia haven't managed to get a shot on target since Artem Dzyuba's penalty. However, Spain are threatening to go ahead here.
Rodrigo's ran down the right flank with blistering pace and managed to cut inside the box and take a shot as well. A powerful one but Akinfeev is the saviour for Russia again.
2018-07-0121:47 (IST)
Extra-time half-time: ESP 1-1 RUS
The first-half of the extra-time ends with Pique trying to put Spain ahead with header. However, Akinfeev handles the situation with ease. It was a good free-kick taken by Koke.
Meanwhile, Spain have completed 1000 passes in the match. However, this one seems to be heading to a penalty shootout. Advantage Russia?
2018-07-0121:42 (IST)
Extra-time 14 min: Eighth substitution of the match
Spain make another change, their fourth. It's an attacking one as they replace Asensio with Rodrigo.
2018-07-0121:39 (IST)
Extra-time 10 min: Akinfeev needed by Russia
Igor Aspas is making some threatening runs into the box. He finds Asensio, who shoots from outside the box. A powerful one but straight to Akinfeev.
2018-07-0121:36 (IST)
Extra-time 7 min: Russia make a historic substitution
A bit of World Cup history here as Russia exercise their right to bring in a fourth substitute in the extra-time — a first in the tournament. Erokhin comes in to replace Kuziaev.
2018-07-0121:34 (IST)
Extra-time 6 min: Spain putting pressure on Russia
Spain are showing a bit of urgency. They are putting in the crosses from the flanks and the Russia defence is troubled a bit. Meanwhile, Koke tries to fire one in from a long way but the shot is way off target.
2018-07-0121:30 (IST)
Extra-time gets underway!
Will the match go to the penalties? Spain need to show more urgency if they are to avoid a tricky situation in the end.
Notably, they had had 74% possession and made a staggering 845 passes, compared to Russia's tally of 224. However, most of the match was boring as Spain lacked ideas to make use of their possession.
2018-07-0121:26 (IST)
Full-time: ESP 1-1 RUS, we head to extra-time
Despite some nervous moments in the added time, Spain and Russia are level at 1-1 at the end of full-time. We will have 30 minutes added on.
Spain are playing their first extra-time since the World Cup final in 2010.
Meanwhile, both teams have used up all their substitutes but they are allowed to make one more replacement in this World Cup. A first in the history!
2018-07-0121:21 (IST)
90+3 min: Smolov fires one wife off the post
Russians are giving Spain some nervous moments now. Smolov tried to curl one in from the left but his shot missed the post by a few yards. Imagine the scenes if that were to beat David de Gea.
2018-07-0121:19 (IST)
90 min: Spain are putting some late pressure, four minutes added on
With an array of corners, Spain are making the Russian fans nervous. However, they are unable to make any threatening move inside the Russian box. The hosts have been brilliant at the back.
Can they hold on for another four minutes? We'll have the first extra-time of the tournament today.
2018-07-0121:16 (IST)
85 min: Akinfeev keeps Russia in the match
Andres Iniesta takes a powerful shot from outside the box but Igor Akinfeev manages to get his hands on it with a full-length dive to his left. He quickly gets up and clears a shot off the rebound as well.
Meanwhile, Russia try to hit on the counter but they fail to test David de Gea.
2018-07-0121:10 (IST)
80 min: Is this match heading to extra-time?
Russia have not got a shot on target yet in the second half. Meanwhile, Spain, who are having a lot of possession, aren't doing any better. It remains 1-1 in Moscow.
Diego Costa, who was non-existent today, comes off. Iago Aspas replaces him.
2018-07-0121:01 (IST)
71 min: Carvajal comes in for Spain
Dani Carvajal replaces Nacho at the left. The Spaniards are once again keeping the ball themselves at the midfield without much threat to the Russian backline.
Meanwhile, Zobnin gets a yellow card.
2018-07-0120:55 (IST)
66 min: Golovin goes down inside the box, Iniesta is in
Alexandr Golovin skipped past a few defenders into the box and tried to cut in to deliver a cross but he lost balance and slipped.
Meanwhile, Andres Iniesta has replaced David Silva. Will this prove to be a decisive moment in the match?
2018-07-0120:53 (IST)
65 min: Russia make their final change
Goal-scorer Arten Dzyuba makes way for Smolov. Stanislav Chercheshov brings in the man who scored twice in Russia's 3-3 draw against Spain last year at St. Petersburg.
Meanwhile, Andres Iniesta is warming up. Will he be the man for Spain?
2018-07-0120:49 (IST)
60 min: Russia bring Denis Cheryshev
Denis Cheryshev, who was surprisingly left on the bench, comes in for Russia. He has scored three goals so far and an own goal as well.
Meanwhile, Spain have had the most of the ball in the last 10 minutes. They have put some dangerous crosses but the Russian defence has been up to the mark. They need to get into the Russian box more often than they are doing now.
2018-07-0120:39 (IST)
50 min: Brisk start to the second half
Both teams, it seems, have realised the importance of an early goal in the second half. Brisk football is being played and both the teams have already created some threatening chances. It still remains 1-1 in Moscow.
2018-07-0120:34 (IST)
46 min: Russia have made a change
Experienced Yuri Zhirkov is replaced by Vladimir Granat at the left. Will Spain need Andres Iniesta today? We're set for an exciting second half.
2018-07-0120:25 (IST)
Half-time: RUS 1-1 ESP
The first 45 minutes comes to an end at the Luzhniki Stadium. And the Russian fans will be the happier ones.
Gerard Pique's costly error — a handball inside the box — allowed the hosts to equalise with just four minutes to go for the break. Artem Dzyuba was the man for Russia.
Spain were in control of the match after an early own goal from veteran defender Sergey Ignashevich. The 38-year-old became the oldest man to score an own goal in a World Cup match.
The La Roja had 72% possession in the first half and even frustrated Russia at one point the game by bringing out their pass...pass..pass routine. Russians applied a bit of pressure and brought some panic to the Russian defence from set-pieces.
Diego Costa showed up towards the end of the first-half and Spain need more of it if they are to avoid the unthinkable result.
2018-07-0120:18 (IST)
45 min: Will it remain 1-1 at the break
Spain aren't sitting back here. Isco and Costa have combined well to trouble Russian goalkeeper Igor Ikinfeev.
2018-07-0120:15 (IST)
41 min: Goal! Russia equalise
Artem Dzyuba does it with ease from the spot. Russia have made it 1-1 and listen to the roar from the Russian fans at Luzhniki Stadium. They are going berserk.
Pique with an unnecessary challenge. The referee didn't need VAR to give that one. But here comes the meme of the first-half.
Even though De Gea could have done nothing to stop it, he has conceded six goals from seven shots on target.
2018-07-0120:11 (IST)
40 min: Penalty for Russia
Russia have a penalty here. Gerard Pique gets a yellow for using his hands to deflect a header from a corner.
Dzyuba to take the shot from the spot. Luzhniki Stadium is buzzing.
2018-07-0120:07 (IST)
36 min: Golovin fires one off the target
Spain were tested by a good buildup play by Russia. They kept searching for space inside the box while managing to keep the ball and when Alexandr Golovin found some space, he shot the ball a few yards off the post. Better from Russia.
2018-07-0120:04 (IST)
30 min: It remains 1-0
Russians are finding it difficult to get possession of the ball. They went forward a couple of times and even got a corner-kick, which they wasted by not delivering into the box.
Meanwhile, Spain are keeping the ball and passing it between themselves. It's all pass..pass..pass from the La Roja.
2018-07-0119:49 (IST)
18 min: It's 1-0 in Mocsow
Russia are on the ascendancy now, they are controlling the pace of the game. Isco is showcasing some lovely control and is marshalling the midfield. The noise in Luzhniki has gone done as well.
Meanwhile, there is more bad news for the Russian fans. The hosts have never won a World Cup match after conceding the first goal.
2018-07-0119:46 (IST)
12 min: Goal! Russia concede an own goal
It all started when Yury Zhirkov rammed into Asensio, conceding a free-kick to the right of the box. It was a hard tackle and the Russia midfielder was in some pain there.
However, he was up on his feet and delivered a brilliant cross into the box. Sergei Iganashevich, who was trying to contain Sergio Ramos, deflects it into the post. An own goal here. The Real Madrid captain though celebrated, thinking it went off his boots.
38 - Sergei Ignashevich is the oldest ever player to score an own goal in a World Cup match (38y 352d). Oops. #ESPRUS #RUS #WorldCup

— OptaJoe (@OptaJoe) July 1, 2018
2018-07-0119:41 (IST)
8 min: Russia hitting on the counter
Alexandr Golovin leads a Russian break but Spain avert the danger.
2018-07-0119:36 (IST)
4 min: Corner for Russia
Luzhniki is buzzing. Alexandr Golovin makes a brisk run down the right and wins a corner for Russia. Nothing comes off Samedov's delivery as Spain fend off the danger.
The Spaniards have already had a lot of possession. They are patiently building up to find space inside the Russian box. A back-three is not a bad option for the hosts today. Good move from Chercheshov.
2018-07-0119:30 (IST)
1 min: The match is underway in Moscow
The Spaniards, in blood red, get the match underway at the Luzhniki Stadium. Can the hosts pull off an upset?
2018-07-0119:28 (IST)
The two teams are ready for the national anthems
The stage is set for the biggest match in modern Russia's history. Stanislav Cherchesov's side has defied expectations to reach the knockout stages.
You could tell from the noise that is being generated from inside the Luzhniki Stadium about the importance of this match. The Fifa fan party is being held just outside the stadium.
2018-07-0119:16 (IST)
We're 15 minutes away from the start in Moscow
It's a hot day in Moscow but the Luzhniki Stadium is buzzing. No prize for guessing, the stands are filled with Russian supporters.
The home crowd is expected to get behind the hosts today. A good start from Russia will make things difficult for Spain.
2018-07-0119:11 (IST)
Here are the confirmed line-ups
Spain's Fernando Hierro has made three big changes to the line-up that drew against Morocco. The big news is that Andres Iniesta is not starting for them. Rest, probably?
Right-back Nacho returns replacing Carvajal. Koke and Asensio come into midfield while Iniesta and Alcantara make way.
Spain: De Gea; Nacho, Pique, Ramos, Alba; Koke, Busquets; Silva, Isco, Asensio; Costa.
Hosts Russia, meanwhile, have switched to a 5-4-1 formation with three center-backs. Surprisingly, Denis Cheryshev is not starting for them.
Russia: Akinfeev; Fernandes, Kutepov, Iganshevich, Kudriashov, Zhirkov; Kuziaev, Zobnin, Samedov, Golovin; Dzyuba.
2018-07-0119:07 (IST)
Dangerous Russia eye upset
Spain cannot afford defensive errors as Russia hasn't been shy of scoring goals. They demolished Saudi Arabia 5-0 in the World Cup opener at the same venue and went on to hand a 3-1 thrashing to Egypt, who were unimpressive in Russia.
The likes of Denis Cheryshev, Alexander Golovin, and Artem Dzyuba have been extremely impressive and the onus will be on them to trouble the Spanish backline.
2018-07-0119:07 (IST)
Can Spain switch gears today?
Spain haven't been at its dominant best in Russia. After eleventh hour drama that saw former coach Julen Lopetegui being sacked, the La Roja, under Fernando Hierro, managed to avoid an early exit and even scraped through to the top of Group B table.
The 2010 champions have managed only one win so far in the tournament. After being held to a draw in a six-goal thriller in their opening match, Spain managed to beat Iran 1-0 before finishing their round-robin campaign with a disappointing draw against Morocco.