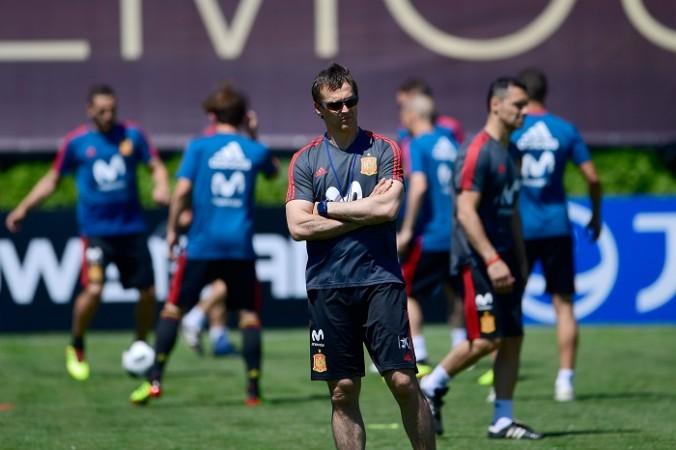 The timing was awful, Real Madrid's disregard for the national team clear and as a result, Julen Lopetegui has found himself out of the World Cup after Spain decided to sack their manager, a day after the Spanish club announced he would take over from Zinedine Zidane at the end of the Fifa World Cup 2018.
With Spain's preparations in full swing – they play their first game on Friday – Real Madrid's announcement that the national team manager would take over at the Bernabeu came as quite a shock, with the timing of the announcement, more than anything, creating quite a few problems.
In order to avoid any further issues, the Spanish football federation have decided it is better to sack Lopetegui than have to deal with dressing room problems that would have inevitably come about had the manager continued in the job, and that too when the most important national team tournament in the world is about to get underway.
The Spain football federation (RFEF) president Luis Rubiales had flown down to Spain's training base in Krasnodar to deal with the situation after hearing of Real Madrid's decision, as a result, missing Fifa's congress in Moscow, where the hosts for the 2026 World Cup will be decided.
That trip has led to Rubiales making the stunning decision to sack Lopetegui, leaving Spain in turmoil a day before the Fifa World Cup in Russia begins.
"We have been forced to dispense with the national coach," Rubiales said. "We wish him the greatest of luck.
"I very much admire Julen and respect him greatly. He seems to be a top coach and that has made it more difficult to make this decision."
Rubiales said the manner of the negotiations, with the Spanish federation not kept in the loop, left him with little choice, but to make this decision.
"The federation cannot be left outside the negotiation of one of its employees and find out just five minutes before a public announcement," Rubiales added. "If anybody wants to talk to one of our employees, they have to speak to us, too. That is basic, as this is the team of all Spaniards.
"The negotiations have occurred without any information to the Spanish FA and we were informed just five minutes before the press release. There's a way to act that needs to be fulfilled."
Spain have Fernando Hierro travelling with the squad as director of football, and, unsurprisingly, he has been handed the head coach reins. Ironically, Hierro is a legend at the club, whose decision to announce their new manager led to all this chaos.
"I have spoken with the players and I can guarantee they will do everything, along with the new coach, to take the team as far as possible," Rubiales added. "To win is very important, to have the best coach very important, but above everything is acting in the right way. Maybe this is tough now, but in the end it will make us stronger."
Speaking after Real Madrid's statement on Tuesday, RFEF vice-president Rafael del Amo expressed his disappointment, especially considering Lopetegui had just last month signed a contract extension till 2020.
"I don't like it, don't like it at all," Del Amo told Radio Marca. "This is not the moment, [Lopetegui] will know that. It is a bit offside, he should have been focused on where he is, there is a lot on the line.
"I believe they should have looked for another moment, but you must have respect too. I believe we will win the tournament, I hope so. If not, you realise how bad this news could be, for some, and for others.
"For sure it is not the best thing that could have happened."