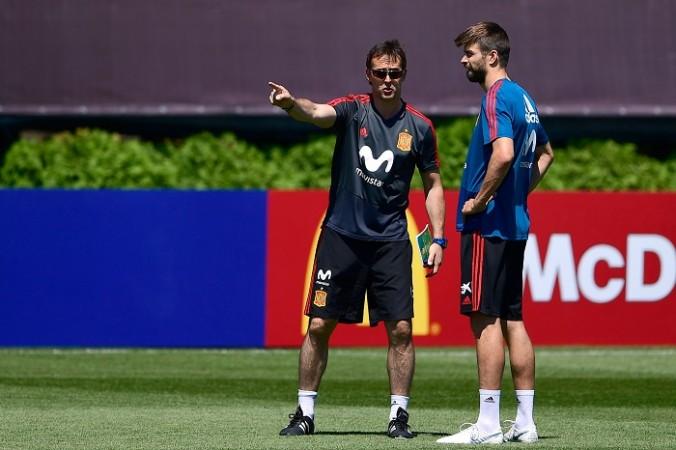 When Manchester City announced that Pep Guardiola would be taking over from Manuel Pellegrini with half a season still to go, City's form took a bit of a dip and they ended up having a disappointing campaign, particularly in the Premier League, with the players clearly finding it difficult to concentrate on the present.
That very same problem could arise for Spain, after Julen Lopetegui was announced as the new Real Madrid manager, three days before the 2010 World Cup winners kick off their campaign in Russia.
The last thing you need, as you head into a World Cup, is a distraction, and this certainly could prove to be an unwanted one. With Real Madrid deciding to announce that Lopetegui has agreed a three-year contract, just a few weeks after the former FC Porto boss had committed to being the Spain head coach until 2020, you wouldn't blame the Spain players for thinking, "what is going on."
Yes, the Real Madrid players in the squad – and there are quite a few of them – might actually relish the World Cup now, knowing the very same manager will be at their club come the start of next season, but what about the others? The Barcelona players, for instance.
Will they think that there is no point in listening to the manager's instructions anymore, considering he isn't fully committed to the Spain cause long-term?
While that is highly unlikely, considering they are professionals and they would love to add another World Cup title to their kitty, there might be a few issues that could crop up within the squad. Especially, if Lopetegui is seen to be giving a Real Madrid player preference over someone that the others might think deserves more of an opportunity.
It's the small things in the dressing room, the murmurs, that turn into Chinese whispers and then blow up into something much bigger, that cause unrest, and the last thing any team, particularly a title-challenging team like Spain, need heading into the Fifa World Cup 2018 in Russia.
From the outside looking in, it will seem perfect, no doubt. Whether it will be the same for the players and the soon-to-be-leaving manager or not, we will know as the World Cup progresses.
Spain have already been handed a difficult first match at this World Cup, with Lopetegui's side opening their campaign against the reigning European champions Portugal. You just know if there is any sign of weakness, Cristiano Ronaldo and co. will exploit it.
So, it will be up to Lopetegui to make sure he has his team are prepared well and, particularly, thinking along the same lines heading into this crucial Group B fixture, with the winner of the result likely to decide which team will finish top of the group, and with it avoid a tricky knockout game.