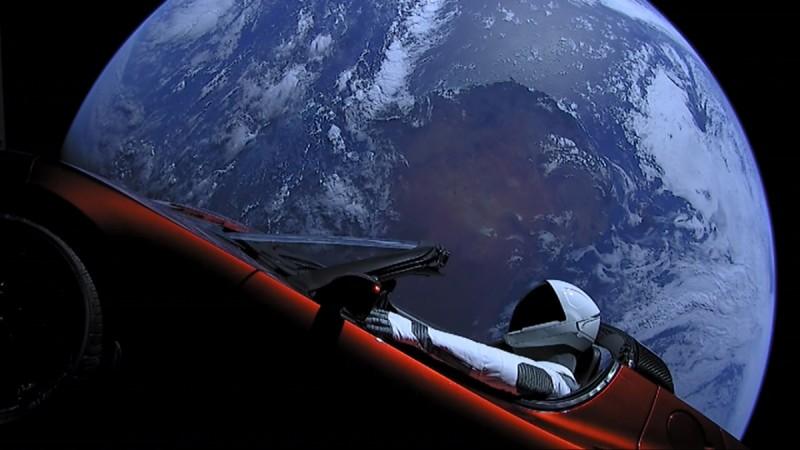 Elon Musk's Tesla Roadster, which was launched into space aboard SpaceX's most powerful rocket Falcon Heavy, is likely to crash back into Earth, experts have warned.
A team led by Canadian astrophysicist Hanno Rein from the University of Toronto Scarborough has predicted that the car, launched into space on February 6, could crash back to the Earth. The reason behind the possible collision is its "chaotic orbit" and the researchers say that the electric car could steer into the Earth's orbit and end up crashing.
"We have all the software ready, and when we saw the launch last week we thought, 'Let's see what happens'. So we ran the [Tesla's] orbit forward for several million years," Prof Rein was quoted as saying by Express.
According to the researchers, the car will have its first close encounter with the Earth in 2091, when the car will come within one lunar distance from our planet.
The calculations carried out by the researchers reveal that there is a six percent chance of the Tesla Roadster hitting the Earth a few million of years after.
"The Tesla will likely impact the Earth within a few tens of millions of years," Prof Rein said. The study also says that there is a two and a half percent chance of the car ramming into the Venus, Express reported quoting the researchers.
The chances of Tesla Roadster colliding with Earth would increase to 11 percent over an elongated period of three million years. The researchers have, however, clarified that no threat will be posed to humanity by the car.
"It will either burn up [in the atmosphere] or maybe one component will reach the surface. There is no risk to health and safety whatsoever," said Prof Rein.
The cherry colored Tesla Roadster was launched with a spacesuit-wearing mannequin nicknamed Starman in the driver's seat, listening to David Bowie's track 'Space Oddity'.
The roadster was launched with the aim of orbiting the Sun while being in a close proximity to Mars for the next billion years unless the space radiation doesn't tear the vehicle apart.