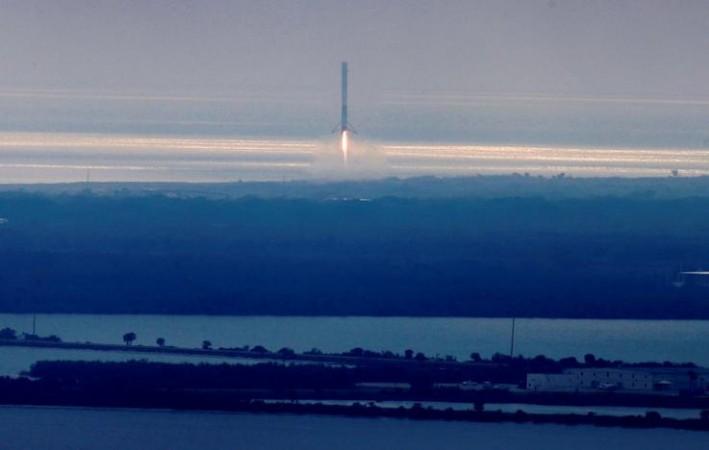 The SpaceX rocket launch mission, known as cargo resupply services, or CRS-10, was going to take place on Saturday, February 18 2017, it was cancelled and postponed to Sunday, February 19, 2017
Also Read: NASA discovers life's building blocks on dwarf planet Ceres!
The launch to the International Space Station (ISS) was postponed just 13 seconds prior launch due to technical glitches in Falcon 9's upper stage. A very small leak was detected by the engineers, as reported by techcrunch.com.
This was the commercial launch, which took place at 9:39 a.m. EST, from NASA's Launch Complex 39A Kennedy Space Center in Florida from on SpaceX's Falcon 9 rocket.
SpaceX's Dragon spacecraft carried around 5,500 pounds (around 2495 Kg) of supplies, cargo and research equipment on this mission.
The research material carried by the Dragon spacecraft comprises of a crystal growth experiment which aims at crystallising a monoclonal antibody which is undergoing clinical trials for medical purposes to treat immunological ailments. Monoclonal antibody refers to an antibody created by a single clone of cells.
It will be easier to grow crystal in space compared to Earth, as the crystal tends to disintegrate on Earth due to gravity; also, the quality of the crystalline suspensions monoclonal antibodies grown on Earth are found to have a poor quality, which makes it difficult to fully model. It makes it easier for the researchers to understand the arrangement of the biological molecules of the antibodies when they are in crystallised form, this would help them discover how these antibodies function in the body.
Another research that will be carried on in this space flight is about drug-resistant microbes, the research aims at developing medicines which can combat such micro organisms. Even stem cells will be analysed by the researchers which is used to treat strokes, etc with the help of the experiment supplies carried on this flight.
"The equipment aboard the Dragon includes a major instrument that will survey Earth's upper atmosphere in a continuation of one of NASA's longest-running Earth-observing programs. Called SAGE III for Stratospheric Aerosol and Gas Experiment, the instrument examines the levels of ozone, aerosols, nitrogen dioxide and water vapour in the stratosphere and troposphere high above Earth," a NASA statement quoted.
Once the Dragon spacecraft reaches ISS, a robotic arm will be used by astronauts Thomas Pesquet of European Space Agency (ESA) and Shane Kimbrough of NASA. Its live streaming can be seen on NASA TV and SpaceX's website on Wednesday, February 22 at 4:30 am EST (9:30 AM GMT).
"For more than 16 years, humans have lived and worked continuously aboard the International Space Station, advancing scientific knowledge and demonstrating new technologies, making research breakthroughs not possible on Earth that will enable long-duration human and robotic exploration into deep space," a NASA statement quoted.
Here's the link to the CRS-10 Hosted Webcast: