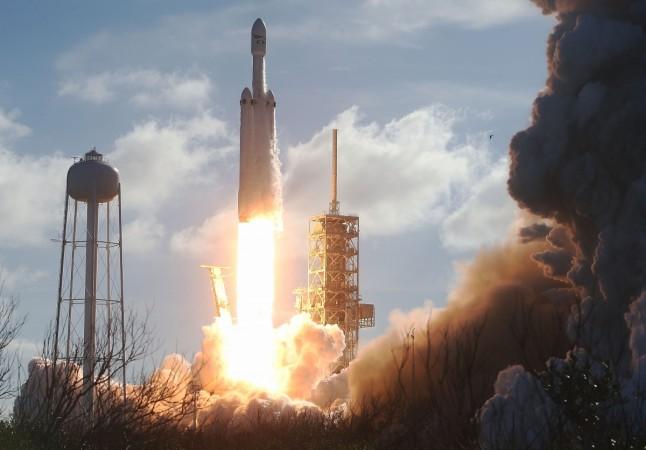 SpaceX's Falcon Heavy- the world's most powerful still operational rocket has received the approval of the US Air Force (USAF). The world's largest air force has even scheduled a launch using this rocket in the second half of 2020.
Elon Musk-run SpaceX will be launching the Air Force Space Command-52 satellite in September 2020 from the Kennedy Space Center, Florida. The launch will cost the US government about $130 million, according to a statement by the USAF. This charge is actually a bit higher than the normal cost of hiring a Falcon Heavy, notes ARS Technica, because of the military requirements and assurances that go with the launch.
Coming after just one test flight of the Falcon Heavy, this is big news because the space company is yet to actually carry out any missions using the vehicle yet. The maiden launch of Falcon Heavy was widely covered and publicised, but there was no real payload or anything in it, just a few blocks of concrete and a cherry red Tesla Roadster. There will, however, be a few more Falcon Heavy launches before September 2020 for private customers, said reports.
SpaceX getting the Air Force Space Command-52 satellite launch is also significant because, as the report points out, this is the very first time that Musk's company has gone head to head with a United Launch Alliance (ULA) rocket for a military mission. The military picked SpaceX, again, after only one test run.
SpaceX President and COO Gwynne Shotwell said in a statement:"I want to thank the Air Force for certifying Falcon Heavy, awarding us this critically important mission, and for their trust and confidence in our company."
The ULA has a really good track record and is known to be exceptionally reliable, notes the report, but they are generally a lot more expensive than SpaceX, which managed to clear all of the USAF's nine reference orbits. In spite of the seemingly steep $130 million price, it is still reportedly only one-third to one-half the price that ULA's massive Delta IV Heavy commands.
SpaceX's first Falcon Heavy payload launch will happen later this year, no later than October. This time, all three cores of the rocket will be the upgraded Block 5 falcon 9s.
For those who are not really able to visualise just how big the Falcon heavy rocket is, Inverse recently created a graphic that explains just how big these things are. The Falcon Heavy and Falcon 9 are not much different in terms of height, however, the upcoming BFR that Musk hopes will take people to Mars is absolutely massive. Here is a quick video explaining it in terms of side by side comparison with the Statue of Liberty.