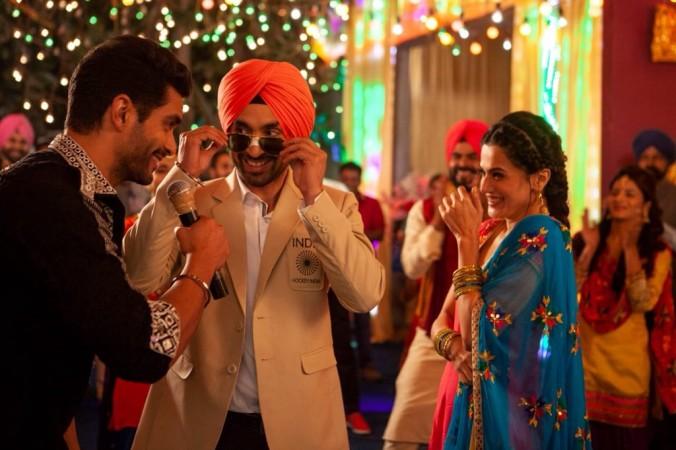 Director Shaad Ali's latest offering Soorma starring Diljit Dosanjh, Taapsee Pannu and Angad Bedi finally hit the theatres on July 13. The movie, which chronicles real-life events of Indian hockey legend Sandeep Singh, has received mixed responses from critics. It looked more like an inspirational story than a biopic which focuses more on the hockey player's love story inspired by true events than his abilities on the hockey field.
Critics, however, have lauded the performances of the lead actors which made them look believable and watchable in their respective portrayals of real-life characters. Diljit Dosanjh as Sandeep Singh has been appreciated for doing justice to the hockey legend whereas Taapsee Pannu (who plays Sandeep Singh's girlfriend) and Angad Bedi (who plays Sandeep Singh's brother Bikramjeet Singh) have managed to impress the critics with their acting skills.
The film, however, seems to have fallen short of utilising its full potential. But it looks like it has hit the right patriotic chords which Shaad Ali was trying to achieve despite its shortcomings.
While Soorma movie reviews are out, take a look at what critics had to say about Shaad Ali's film and its performances on screen.
Saibal Chatterjee of NDTV: "Soorma is more drag than flick, a hockey film sans genuine impetus. It is nowhere near the league of Chak De India despite telling a story that is no less intense than a wrongly victimized coach's struggle for redemption. The film fails way short of harnessing its full dramatic potential. Meant to be a celebration of a sportsman's resilience, this is a mechanical, hackneyed, dour re-enactment of a remarkable life. The Sandeep Singh story deserved far better."
Rohit Vats of Hindustan Times: "'Desi' humour has been Diljit's strength in many of his films. He tries to replicate the formula, but this time it's not charming. In comparison, Angad Bedi emerges as a capable actor who changes tone as per the scenes. Director Shaad Ali pulls the strings the moment Soorma starts looking like a sports film. It's more like an inspirational story than a biopic."
Shubhra Gupta of The Indian Express: "The film keeps that crucial spirit to the fore when it starts off. Till Sandeep is shown as a regular guy supporting his older brother who is the hockey player (Bedi) with promise and with an eye on the India jersey, gently flirting with a pretty girl, and generally being a good son, Soorma stays believable, and watchable."
Kunal Guha of Mumbai Mirror: "Director Shaad Ali's job here was limited to staging — laying out the events to evoke a range of emotions. But this biopic on former Indian hockey captain Sandeep Singh, also known as Flicker Singh, is not a conventional sports film. It does detail his tumultuous journey of trouncing the odds and his meteoric success littered with setbacks. But it is essentially a love story as Singh's drive for excellence for a large part of his sporting career is fuelled by his desire to unite with his love interest."
Anita Iyer of Khaleej Times: "After a string of box office misses, Shaad Ali takes up the task of telling a story of a hockey legend in a cricket-crazy country and manages to keep us glued. The film might, in bits, come across as documentary-ish as it ticks all the career achievements of Sandeep Singh. Time will tell if 'Soorma' will find its place in the biopics made on Indian sportsmen. Despite its minor flaws, 'Soorma' is a film crafted with care and a story that needs to be watched."
Nandini Ramnath of Scroll.in: "Soorma is remarkably low-key about its high notes. To the cliche-ridden sports biopic genre, which is groaning with accounts of early victories, career-threatening adversity and fist-pumping clawbacks, Soorma introduces welcome strains of modesty and intimacy."
Rohit Bhatnagar of Deccan Chronicle: "Director Shaad Ali, whose popcorn cinema is filled with silly experiments till date, surprisingly emerges as a winner with flying colours in his latest offering Soorma. The biggest advantage of making a biopic on a sportsman is that you can hit the patriotic chord, and that's what Shaad Ali tries to do."