Sony recently updated its Extra Bass wireless speakers series in India with the addition of three new models, SRS-XB41, SRS-XB31 and SRS-XB21. Of the three models, the flagship SRS-XB41 stole the limelight with its premium build, sound quality, and durability.
Priced at Rs 13,990, the Sony Extra Bass wireless speaker went on sale last month. At International Business Times India, we tested the SRS-XB41 to see if it really makes it buyers' worth in a market where there are several potential rivals. We decided not to pit the SRS-XB41 against Google Home or Amazon Echo as it would change the playing field for the Sony speaker but reviewed as a standalone Bluetooth speaker that dances to your tunes – be in the woods or by the pool.
Sony SRS-XB41 Extra Bass speaker's price gave us an early idea that it will be a premium device, targeting the audience who value that extra beat, precision and detail while listening to rock, pop or even jazz.
Let us start by highlighting the good things that Sony SRS-XB41 speaker has to offer for the price.
The first thing you'll notice in the Sony SRS-XB41 is the flashy LED lights that change according to the beat of the song that's playing on it. It's quite an interesting feature that we were impressed by in a dim-lit environment as it can really spice up the mood.
The overall design of the Sony SRS-XB41 is built to last. It's durable and we did not have to think twice before placing it by the pool or in a dusty area. That's where our knowledge of the speaker being waterproof, dustproof and rustproof did a power play.
The speaker is quite comfortable to hold, thanks to the new fabric material that covers the entire body. It is a tad heavy than conventional speakers, so it's best to enjoy the music when it's stationed practically anywhere.
For the design, Sony SRS-XB41 scores full marks. Now, let's move on to other parameters.
The first thing anyone would want to know while purchasing a wireless Bluetooth-powered speaker is how long it will last. Thankfully, Sony paid close attention to that and promised a non-stop 24-hour battery life. Naturally, we had to test it, and it turns out Sony delivers on its promise quite impressively.
We could not test the speaker's battery in a single go but managed to record its battery life in intervals that we used. With a full charge, users can enjoy multiple sessions of great music without worrying about charging it. We did not feel the need to charge it as often as other wireless speakers would want.
We mostly tested the speaker placing the volume between 50-80 percent and it gave us 7 hours playback without dying out on us. In fact, it went on for another session on the same full charge and still managed to save some juice before we fuelled it up for another jam.
On the battery front, Sony SRS-XB41 is going to be your safest bet.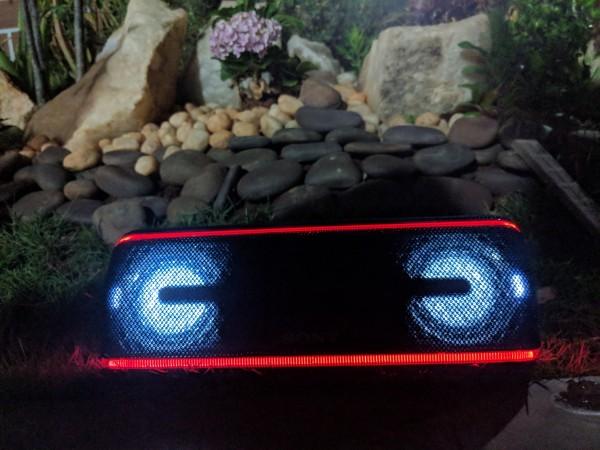 The most important aspect is the sound performance. There are some really good features like the Live Sound, which activates surround with a tap of a button on the speaker. And the fact Sony is selling the SRS-XB41 as an Extra Bass speaker is totally justified as the bass really is pretty good.
But those who have an ear for perfection will find the bass hitting where it's not supposed to but it's not a major bummer. The highs are excellent and the speaker strikes a perfect balance between detail and depth while delivering any tracks.
With some strong USPs in the design, battery and sound performance, Sony needs some tinkering on the app side of things. Yes, there are several controls and levels of customizations within the app, but we experience some untimely crashes and delays while using it on our OnePlus 5T. But there are important controls on the speaker, so as long as you stick to that you'll be just fine.
Another noteworthy mention is that the Sony SRS-XB41 can connect to up to 100 of those. We were certainly not at the liberty of testing it, but we watched Sony do a demo of 25 speakers at the launch, which looked choreographically magical. So as long as you can get 100 of your friends to buy the Sony SRS-XB41 speakers, it's not a feature you'll be testing it anytime at all.
Overall, Sony SRS-XB41 is a wise choice if you're looking for nothing more than a good audio gear for your home entertainment or small gatherings. But the competition is growing thick as smart speakers are slowly gaining traction even in a niche market such as India. But being a wireless speaker, convenience can rarely be matched with a smart speaker that is not mobile and requires internet at all times.