When we talk about headphones and audio products, there are a handful of names that come to mind and Sony is clearly one of the top choices. For customized audio experience, Sony has a variety of headphones and speakers that go with every occasion, ranging from high-intensity workouts to day-to-day life.
On Monday, Sony launched new wireless earphones with noise-canceling technology that add a wider range of selection for audiophiles. Sports and fitness enthusiasts, as well as youngsters who like minimal design with the sophistication of great audio, will find the new collection appealing. This is Sony's latest attempt to take on its rival Bose, which has similar products but at a higher price range. That's not it, there are new, affordable headphones and new speakers to align with consumers' interest.
Let's start with the new range of in-ear headphones.
Sony launched Apple AirPods-style WF-SP700N along with neckband design WI-SP600N and WI-SP500 with a sporty design and great audio performance. These earphones made their global debut at the CES 2018 event in January this year.
Pricing and availability in India
The WI-SP500 lacks noise-canceling, making it the cheapest of the lot at Rs 4,990. The WF-SP700N cost Rs 12,990 and it comes in black and yellow color options. The WI-SP600N is priced at Rs 9,990 and it comes in black only. Both earphones will be available 15 May onwards, while the WI-SP500 is immediately available.
Take a look at what these new earphones have to offer to justify their respective price tags.
WF-SP700N
The tiny earphones are a perfect fit for your ears, and the splash-proof feature makes it further appealing to the masses. Sony has improved the design of the WF-SP700N by making it look sportier and much cooler than the options available in the market.
The biggest USP of the WF-SP700N is the wireless noise-canceling technology, paired with EXTRA BASS sound for richer and deeper performance. Like the other Sony noise-canceling headphones, this one too has an Ambient Sound mode, which is ideal in the case of using the earphones in marketplaces where surrounding sounds are essential.
The battery is crucial on wireless headphones, and the WF-SP700N is aimed to deliver up to 3 hours of use. But there's a charging case that comes with the earphones, which stores two additional charges for the earphones. So you can rely on the earphones and the case for up to 9 hours of runtime.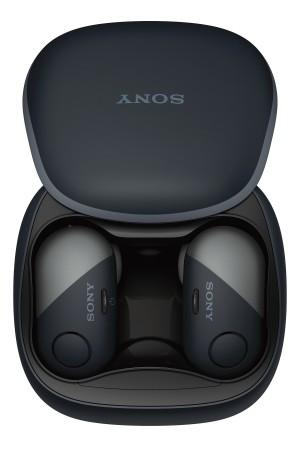 Sony WF-SP700N can be paired with Sony Headphone Connect app to tailor EQ settings to match personal preferences, and it also comes with NFC one-tap pairing function. We will be sharing our review of the earphones soon, so stay tuned.
WI-SP600N
Second in line (price-wise) is the WI-SP600N, which is different than the WF-SP700N. If you fear to lose those tiny wireless plugs like earphones, WI-SP600N serves as a great alternative with a neckband that comfortably wraps to secure your earphones while working out or even running.
The WI-SP600N comes with the same splash-proof rating as the WF-SP700N, so you do not have to worry about rain showers or sweat getting in the way of your entertainment. These earphones have longer battery life, up to 6 hours. It's unclear if the battery is tested with noise canceling and Extra Bass sound features turned on.
This pair is great for work-outs and jogging. Like the WF-SP700N, the WI-SP600N comes with Google Assistant support.
WI-SP500
The cheapest of the lot, WI-SP500 gets its low pricing due to the lack of noise-canceling technology, Google Assistant support, and app support. But it has a battery life of up to 8 hours, which is its biggest USP. But the earphones can pick ambient sounds naturally, thanks to its open-type driver unit.
The WI-SP500 comes with Extra Bass sound, NFC, IPX4 splash-proof rating, and a cool carrying holder. It is perfect for those who want a pair of budget earphones that look cool and sound good.
Affordable Wireless Headphones
Moving on, Sony has also launched affordable headphones to attract the masses. Sony WI-C300, WH-CH400, and WH-C500 are the three additional headphones launched during Monday's event. Complete with Google Assistant support, NFC pairing and Bluetooth, all three headphones are targeted towards budget-conscious buyers.
Sony WI-C300 is the cheapest variant with a neckband style and minimalistic design. The battery on this particular headphone can last up to 8 hours, Sony said. This model is priced at Rs 2,990 and available across the country starting April 16.
Sony WH-CH400 and WH-CH500 are more alike with an on-ear design including the same features as the WI-C300. But the biggest USP of these headphones are the ultimate battery life, which the company claims can last up to 20 hours with wireless playback.
Sony WH-CH400 is priced at Rs 3,790 and the WH-CH500 costs Rs 4,990. While the former headphones will be available immediately, the latter variant will go on sale on May 15. Customers can choose between black or blue color options.
Extra Bass Wireless Speakers
Finally, the company expanded its Extra Bass wireless speakers to keep your private parties going, no matter the occasion. Sony launched three models as a part of its SRS-XB series.
The flagship SRS-XB41, which is priced at Rs 13,990, has a fabric finish, multicolor line light, speaker light and strobe flash. It has some unique features like isolator sound, notch sound, noise sound, jet sound, and an effective wireless range of 30 meters. But Sony also has SRS-XB31 and SRS-XB21 that make a perfect party companion for those who cannot afford the SRS-XB41.
Sony SRS-XB21 costs Rs 7,990 and the SRS-XB31 is priced at Rs 9,990. All three headphones are available across all major electronics and Sony centers in India.
These speakers pack some extra power, both in terms of audio and battery. Below are some highlights that make the new Sony wireless speakers worth considering.
IP67 certified for water, dust and rust proofing

Creates Wireless Party Chain with up to 100 speakers via Bluetooth

Up to 24 hours battery life

New Live Sound mode for the extra boost and 3D sound effect

Finally, in-built lights create the perfect ambiance for a scenic party