Japanese technology giant Sony has announced three new in-ear wireless sports headphones at CES 2018.
Out of the three, one is truly wireless. With an awesome wireless design, these high-quality sports headphones come in many colour variants and offer great options for any active lifestyle.
Song WF-SP700N
While WF-SP700N model is truly wire-free, the WI-SP600N and WI-S500 models are the neck buds which are designed with stronger battery life. All the three headphones feature a sweat-resistant design with the IPX4 splashproof rating and Sony's Extra Bass feature.

Sony claims that they are the first one to combine noise cancellation and splash proof features. The WF-SP700N delivers a battery life of 3 hours, considerably less than the popular Apple AirPods and Samsung's Gear IconX which delivers up to 5 hours of battery life. The "one-touch open" case provides 9 additional hours of charge, as per the company statement.
With IPX4 rating, the headphones are good enough to protect themselves from those sweaty workouts. The model is priced at $179.99 and shipping starts from spring.
Moreover, along with the noise-cancellation feature, there is also an ambient sound mode which will allow the user to hear the surrounding sounds. This is a safety feature introduced by Sony if you're running or biking on the road. Sony says the WF-SP700N will receive a future update and it will deliver quick access to Google Assistant.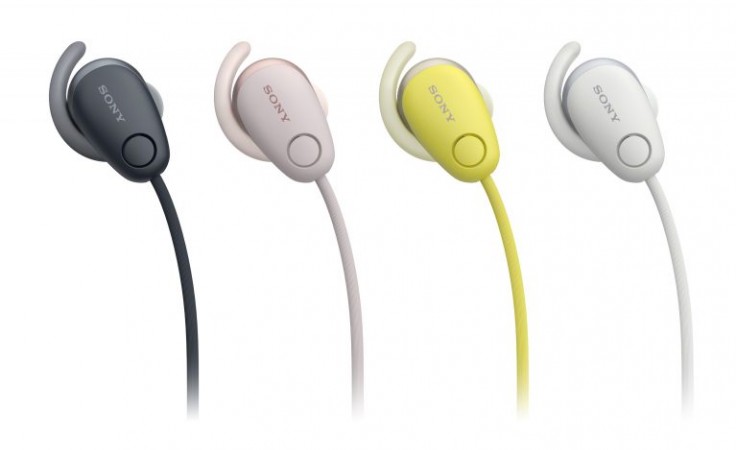 Sony WI-SP600N
The WI-SP600N has a wire between its buds and also features noise-cancelling and sweat-resistant design. It is said to offer 6-hour battery life, which is almost double the truly wireless one. The WI-SP600N neck buds somewhat look similar to the Google Pixel buds. The WI-SP600N model is priced at $149.99 and will be available from spring 2018.
Sony WI-SP500
The entry-level or you can say the basic wireless WI-SP500 leaves off the noise-cancelling feature and is said to have a battery life of 8 hours which is two hours more than the WI-SP600N. Similar to the other headphones, this also comes with the sweat-resistant design with the IPX4 splashproof rating. The WI-SP500 model will be priced at $79.99 and will be available from spring 2018.