Sony has brought a treat to music lovers with its all-new extra bass wireless speaker series to hit those untouched notes. There are four new portable Bluetooth speakers on offer for those who want to keep the party going regardless of the place or occasion.
Sony combines style, convenience and premium sound quality in its new speakers that fits everyone's budget. SRS-XB10, SRS-XB20, SRS-XB30 and SRS-XB40 are the latest entries to Sony's extra bass series, and each speaker stands out for its unique qualities.
The new SRS-XB speakers are priced competitively to match consumers' needs, which will help fuel Sony's speaker growth from 52 percent in FY16 to a projected 56 percent in FY17. The SRS-XB10 is the entry-level speaker priced at Rs 3,590, the SRS-XB20 costs Rs 6,990, the SRS-XB30 is Rs 9,990 and the high-end SRS-XB40 comes at Rs 13,990. If you like the SRS-XB10, you can pre-book it on Amazon from April 14 to 20 and get Rs 1,600 discounted on the MRP.
The bright colours available in the SRS-XB10 and SRS-XB20 add a striking appeal with their blue, green, red and black hues. The SRS-XB30 comes in three shades, black, red and blue, while the SRS-XB40 comes in black. All speakers will be available for purchase starting April 25.
Now, let's take a look at what these speakers have to offer for the price they come in.
SRS-XB10
This tiny little cylinder shaped speaker is exactly what you need to fuel your music desires while on-the-go. You can carry it around while biking, hiking or even relaxing by the pool, SRS-XB10 brings you music everywhere. The compact size of the speaker makes it really easy to carry it around.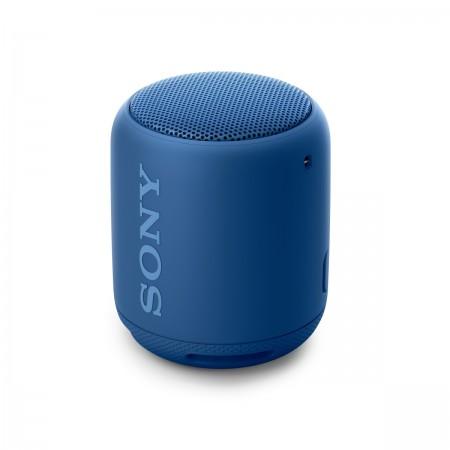 You can use the speaker in two positions – horizontally to direct the music to one user or vertically to entertain a group of friends. A silicon strap that comes with the speaker converts into a stand, or helps you latch it to your backpack.
Just like you can count on its portability, the speaker's battery life is just as reliable. The company puts its average battery life at 16 hours. We will share our review of the product to give you the real world case scenario.
SRS-XB20
SRS-XB20 is high on bass, and brings clarity to all your EDM and hip-hop tunes. Portability and convenience is at the core of this speaker, just like the others in this new Extra Bass series. It is splash proof, has a single colour line-light matching the speaker to create a party vibe, and it can be connected in a sequence (up to 10 speakers) to enjoy a surround sound performance.
There's an app for all the speakers and SRS-XB20 works truly wirelessly with the Music Center and also obeys to your voice commands with Siri and Google Now. The speaker is design to last 12 hours, shortest life span in the series, but quite suffice to keep your weekend gatherings fun filled and entertained.
SRS-XB30
Continuing the extra bass performance, SRS-XB30 packs some extra features to justify the increased price tag compared to XB20 and XB10. It looks different from the SRS-XB20 but a lot similar to SRS-XB40 with its rectangular design with a multi-colour rim on the front. There's a strobe flash and a multi-colour line light to create the club-vibes inside your room. Connect multiple speakers and the synchronized lights will add the extra flavor.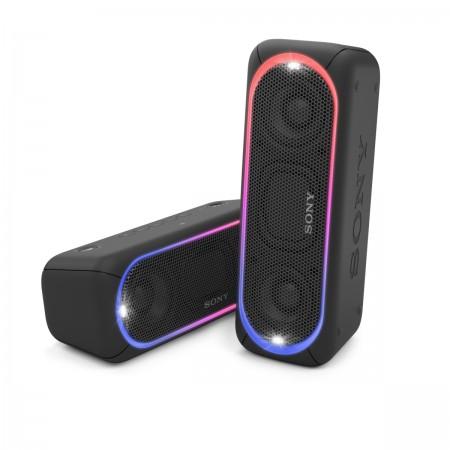 SRS-XB40
The most premium speaker in the series, SRS-XB40 has everything that other speakers offer. In addition, it supports Fiestable app, which lets you play DJ for your own party with designated controls for lighting and motions. The speaker also has a light built-in, which illuminates to the beat in sync with the multi-colour line light and strobe flash.
SRS-XB40 and SRS-XB30 are unique and useful for their batteries. Both speakers can last up to 24 hours, which easily becomes their biggest USP. The massive 8,800mAh battery inside the speakers acts as a power bank to charge your phone in the middle of a house-party.
All speakers have easy one-touch connectivity, music streaming with NFC and Bluetooth compatibility.