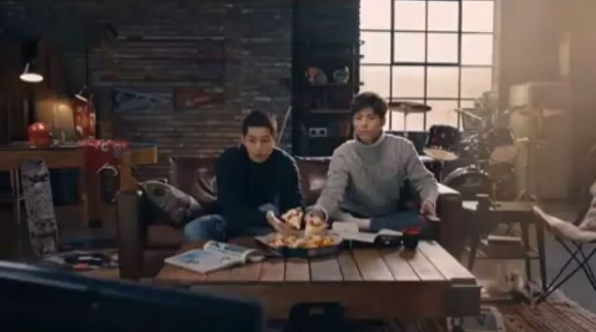 Are Park Bo Gum and Song Joong Ki gay? Till a few weeks back, the duo has only had to deal with rumours of them romancing their co-stars. But now, thanks to a behind-the-scenes video of their latest Domino's Pizza ad, they have been hit by stories of them being a couple in real life.
According to a report on iTechpost, a section of fans believe the Descendant of the Sun actor is romantically involved with the Moonlight Drawn by Clouds star. Their amazing chemistry in the pizza ad is what has given rise to these romance rumours, but there seems to be nothing more than friendship between Song Joong Ki and Park Bo Gum. Besides being friends, Song Joong Ki and Park Bo Gum are also label mates, as both of them are represented by Blossom Entertainment.
As for what's really happening in their personal life, both Song Joong Ki and Park Bo Gum have remained mum about the presence of a significant other. But rumours swirling around have linked Song Joong Ki with his Descendants of the Sun co-star Song Hye Kyo, and Park Bo Gum with Moonlight Drawn by Clouds actress Kim Yoo Jung.
Song Hye Kyo has not responded to these rumours, but Kim Yoo Jung revealed in a recent interview that she and Park Bo Gum are like siblings. However, she added that she understood why people would think that they are romantically involved, as her own parents had a similar doubt.
"Everyone is wondering how it's possible to not like him [romantically], but it's not like everyone in the world must like Bo Gum oppa. And I don't," she said in an interview cited by Soompi.