Bollywood's noted actress Sonakshi Sinha was duped by Amazon India as her online shopping experience takes an awry turn. The Dabangg actress took to Twitter to share the ordeal, where she was not only shipped a wrong product but was also refused help from the customer service.
According to Sonakshi Sinha's post on Twitter, the popular actress had ordered Bose headphones. The unsuspecting Bollywood star received the headphones with sealed packaging from Amazon.in, but what she found inside the box left her in fury.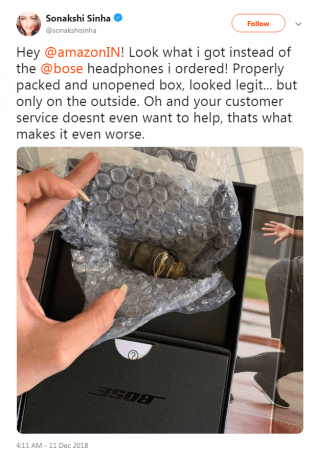 By the looks of it, Sonakshi Sinha ordered Bose's truly wireless earphones, possibly the SoundSport Free, which we reviewed recently. Instead of finding the actual AirPod-style wireless earbuds, Sonakshi Sinha received what appears to be some type of a plumbing nut. Whatever the purpose of it be, it's surely not meant for ears to receive calls and listen to music.
Many Twitter users spoke in Sonakshi Sinha's support, even though the least could be said about the customer service, according to the actress. But some users also took a humorous dig at the situation, including comedian Jose Covaco.
these look very uncomfortable ..how's the battery life ?

— José Covaco (@HoeZaay) December 12, 2018
I guess these are not errors. This seems to be done deliberately. Lot of unboxing videos on YouTube about such flaws in their system. Now it is happening with a celebrity that is you then I'm speechless. They might apply Pushpak movie strategy & deliver it to someone one day ?

— ashish (@ashishbh143) December 11, 2018
While Amazon India customer service seemed to have refused to help, Amazon Help replied to Sonakshi's tweet saying "Uh-oh! This is unacceptable! Apologies for the recent ordering experience and the subsequent correspondence with our support team" and asked to share contact details to get the issue sorted.
It's not clear if Sonakshi Sinha has got a replacement for her Rs 18,000-worth order or a refund at best, the actress shared another tweet taking a funny jibe at Amazon India.
Have you been a victim of a similar instance through online shopping? Share your experiences with us in the comments below or simply tweet to us.