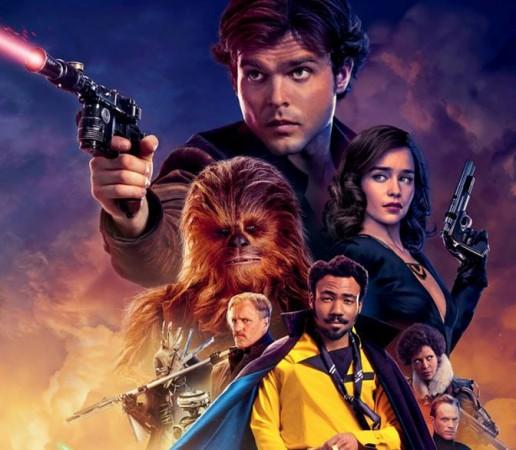 The first reactions for Solo: A Star Wars Story are finally out and the film seemed to have matched up to fans' expectations.
Disney premiered the movie on the night of May 10 for the first time and all the critics are quite excited upon watching the film, which features Donald Glover, Woody Harrelson, Emilia Clarke, Thandie Newton, Phoebe Waller-Bridge, Joonas Suotamo, and Paul Bettany. It is set to hit the theatres May 25.
The portrayal of young Han Solo (Alden Ehrenreich) has been praised all over as a critic wrote on Twitter, "It does take a bit to get used to Alden as Han."
The official synopsis of the movie reads here.
Board the Millennium Falcon and journey to a galaxy far, far away in Solo: A Star Wars Story, an all-new adventure with the most beloved scoundrel in the galaxy. Through a series of daring escapades deep within a dark and dangerous criminal underworld, Han Solo meets his mighty future copilot Chewbacca and encounters the notorious gambler Lando Calrissian, in a journey that will set the course of one of the Star Wars saga's most unlikely heroes.
Check out the first reviews posted on social media by the renowned critics.
Solo: A Star Wars Story has a light tone and has some great action sequences. There were great moments but some were a bit too on the nose for me. The Chewie/Han bromance is the thing to watch for.

— Wendy Lee Szany (@WendyLeeSzany) May 11, 2018
Solo: A Star Wars Story is... fine. It's slow to find its footing, but picks up in the second act, and it's definitely fun. Has the occasional prequel problem answering questions I didn't need answers to, but also some fun references. Overall I liked it, didn't love it pic.twitter.com/dV02yRYueA

— Eric Eisenberg (@eeisenberg) May 11, 2018
Got out of #SoloAStarWarsStory and I'm completely floored. This movie seriously holds up! I was on the edge of my seat and had so much fun watching it! Interviewing the stars of the film tomorrow, cannot wait ❣️ pic.twitter.com/7GAr6h2c8q

— Jacki Jing (@JackiJing) May 11, 2018
There's some fun to be had with #SoloAStarWarsStory. Ehrenreich was solid and really enjoyed Glover and Waller-Bridge as L3, but not convinced we needed a young Han Solo movie. Was really hoping for higher stakes, more energy and depth.

— Perri Nemiroff (@PNemiroff) May 11, 2018
Thrilled to say #SoloAStarWarsStory WORKS. Cast crushed it - true to what we know yet energetic, fresh. Only subpar thing - at least forty minutes wasted on scenes where characters wolf down raw vidalia onions? Third act drags too. Still, this is a REAL Star Wars movie - loved it

— ben mekler (@benmekler) May 11, 2018
Wow. Just come out of #SoloAStarWarsStory and can confirm it's kinda a blast. @donaldglover was as perfect as expected, but Alden Ehrenreich has swagger to match, and spare.

— Joel Meares (@joelmeares) May 11, 2018
Oh, thank the maker. It's good. It's sooo good. #Solo

— Chris Taylor (@FutureBoy) May 11, 2018
#SoloAStarWarsStory: It takes a bit for it to find its feet and for AE to turn on enough charm to make you forget he's not HF. But once it kicks into its hey-let's-make-a-crew and yes-also-do-a-heist stuff, it totally flies.

— Kate Erbland (@katerbland) May 11, 2018
Ooo @StarWars fans you are in for a friggin TREAT w/ #Solo. Killer cast. A great adventure. So much fun. #hansolo

— Kara Warner (@karawarner) May 11, 2018
#Solo is afun! I was pleasantly surprised that it worked as well as it did given all the behind the scenes drama & retooling. Charming cast, fun action, good jokes, good fan service but still does its own thing. #StarWars will be fine.

— Jim Vejvoda (@JimVejvoda) May 11, 2018
#Solo was a blast. The Kasdans nail the character of Han Solo. Yes, the story is a series of expected events (Han meets chewie....etc) but none of them happen as expected. Stay away from spoilers, big Marvel-level shit that will make you wonder where Lucasfilm is headed next.

— Peter Sciretta (@slashfilm) May 11, 2018