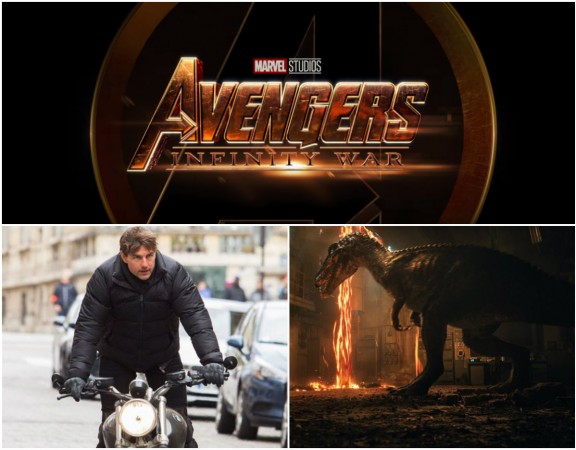 The wait is finally over! Super Bowl LII has taken a kick-start on Sunday, February 4. Aside from witnessing all the football and Justin Timberlake's halftime show, there were a lot more for the Hollywood lovers.
Yes, a lot of sneak peeks of some of Hollywood's biggest upcoming movies have been dropped during the game — Solo: A Star Wars Story, Avengers: Infinity War, Skyscraper, Mission: Impossible – Fallout and more.
Take a look at the movie trailers below.
The Avengers: Infinity War
Release date: May 4, 2018
As the Avengers and their allies have continued to protect the world from threats too large for any one hero to handle, a new danger has emerged from the cosmic shadows: Thanos. A despot of intergalactic infamy, his goal is to collect all six Infinity Stones, artifacts of unimaginable power, and use them to inflict his twisted will on all of reality. Everything the Avengers have fought for has led up to this moment - the fate of Earth and existence itself has never been more uncertain.
Solo: A Star Wars Story
Release date: May 25, 2018
Board the Millennium Falcon and journey to a galaxy far, far away in Solo: A Star Wars Story, an all-new adventure with the most beloved scoundrel in the galaxy. Through a series of daring escapades deep within a dark and dangerous criminal underworld, Han Solo meets his mighty future copilot Chewbacca and encounters the notorious gambler Lando Calrissian, in a journey that will set the course of one of the Star Wars saga's most unlikely heroes.
Jurassic World: Fallen Kingdom
Release date: June 22, 2018
It's been four years since theme park and luxury resort Jurassic World was destroyed by dinosaurs out of containment. Isla Nublar now sits abandoned by humans while the surviving dinosaurs fend for themselves in the jungles. When the island's dormant volcano begins roaring to life, Owen (Chris Pratt) and Claire (Bryce Dallas Howard) mount a campaign to rescue the remaining dinosaurs from this extinction-level event. Owen is driven to find Blue, his lead raptor who's still missing in the wild, and Claire has grown a respect for these creatures she now makes her mission. Arriving on the unstable island as lava begins raining down, their expedition uncovers a conspiracy that could bring our entire planet a perilous order not seen since prehistoric times.
Red Sparrow
Release date: March 2
Jennifer Lawrence as Dominika Egorova is many things. A devoted daughter determined to protect her mother at all costs. A prima ballerina whose ferocity has pushed her body and mind to the absolute limit. A master of seductive and manipulative combat. When she suffers a career-ending injury, Dominika and her mother are facing a bleak and uncertain future. That is when she finds herself manipulated into becoming the newest recruit for Sparrow School, a secret intelligence service that trains exceptional young people like her to use their bodies and minds as weapons. After enduring the perverse and sadistic training process, she emerges as the most dangerous Sparrow the program has ever produced. Dominika must now reconcile the person she was with the power she now commands, with her own life and everyone she cares about at risk, including an American CIA agent who tries to convince her he is the only person she can trust.
Skyscraper
Release date: July 13
Actor Dwayne Johnson leads the cast of Legendary's Skyscraper as former FBI Hostage Rescue Team leader and U.S. war veteran Will Ford, who now assesses security for skyscrapers. On assignment in China, he finds the tallest, safest building in the world suddenly ablaze, and he's been framed for it. A wanted man on the run, Will must find those responsible, clear his name and somehow rescue his family who is trapped inside the building...above the fire line.
Mission: Impossible — Fallout
Release date: July 27
Mission: Impossible - Fallout finds Ethan Hunt (Tom Cruise) and his IMF team (Alec Baldwin, Simon Pegg, Ving Rhames) along with some familiar allies (Rebecca Ferguson, Michelle Monaghan) in a race against time after a mission gone wrong.
Paradox The Cloverfield
Release date: February 4
A team of astronauts aboard an international space station finds themselves alone after a scientific experiment involving a particle accelerator makes the Earth vanish. When a space shuttle appears, the space station crew must fight for survival following their horrible discovery.
A Quiet Place
Release date: April 6
If they can't hear you, they can't hunt you. The upcoming horror film, starring Emily Blunt and John Krasinski, is directed by John Krasinski.