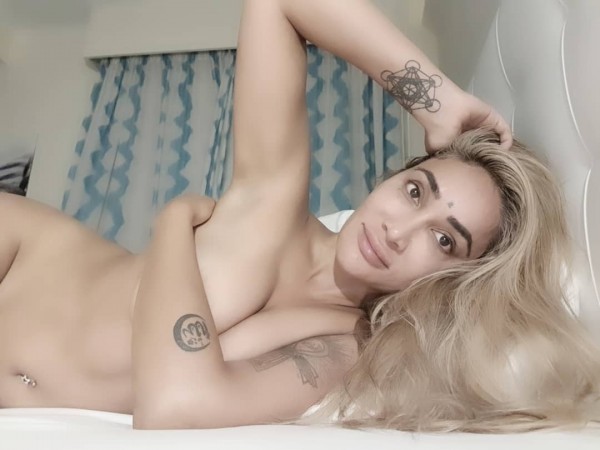 Former Bigg Boss 7 contestant Sofia Hayat, who is known for making controversial statements, has once again stirred a controversy by hurting religious sentiments of people after she uploaded her picture shown above on her Instagram on the occasion of Ganesh Chaturthi. The self-proclaimed nun was seen covering her modesty with her arms and flashing a smile on her face.
"God is a naked woman..a womb that gave birth to 3 who made the 1. ALLAH..who is Ganesh..I am creator..Source merkaba! Islam! Allah Hu Akbar Hare Krishna Shiva Om namah shivaya hallelujah. Shalom Salaam," the self-proclaimed nun wrote on her Instagram post and all hell broke loose.
Disgusted with her actions, Instagram users slammed her on all platforms and fronts. They said that she has all the freedom to upload her nude pictures on social media but they asked her to refrain from associating herself with God and religious beliefs.
Many people accused her of trying to be in the limelight by exposing her body on a platform for cheap publicity while some called her a disgrace to human kind.
Some called Sofia insane while others prayed to God that she gets some sense and told her that she can surely find some better ways to resurrect her career in the entertainment industry.
"As long as you do not apologize to all the religions of the people, then we ill not pardon u......... I hate your face," an angry Instagram user commented.
"She is an illuminati check the signs on her hand she doesn't have any religion," another user wrote.
A couple of days ago, Sofia had irked many people on social media with her comments on Lord Ganesh while celebrating the beginning of Ganesh Chaturthi festival.
Sharing an image while praying to Ganesh's idol, Sofia wrote, "I am Ganesh's mother. I love my Ganesh. Ganesh is Allah. I love my son Allah. Ganpati Bappa Morya."