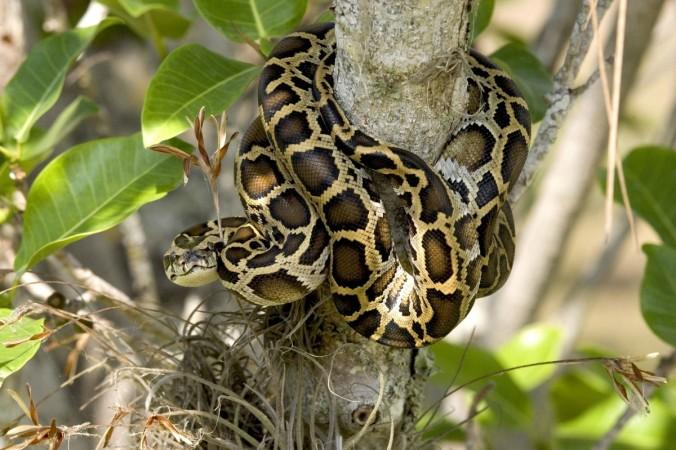 An invasive Burmese python was able to lead Florida researchers to what has been called the largest python "aggregation" ever found in Collier County – all with the help of a tracking device.
The python – nicknamed Argo – was fitted with the tracking device and sent out by the researchers just days before Valentine's Day. Argo then lead the researchers associated with the Conservancy of Southwest Florida to a 100-pound female python who was about to lay eggs, as reported by the Naples Daily News.
But Argo's conquests don't stop there. After the female python was captured, Argo was sent out in the wild again – released to be tracked – and just three days later, about half a mile away from the first location, it was found attending a snake-sex-orgy of sorts.
"We locate him and then there is another male, and another male and another," Conservancy wildlife biologist Ian Bartoszek to Naples Daily News. "We know what all the males are there for, so it's like, where's the female?"
Bartoszek also mentioned that "It was a frenzy."
Also called an aggregation, the members involved in Argo's snake-sex-party were a pregnant female python weighing around 115 pounds and seven other male Burmese pythons. Naples Daily News reported that the eight pythons were the most number of snakes ever found in one place within Southwest Florida and the western Everglades.
The Burmese python population has become a burgeoning issue in Florida – to the extent that the Florida Wildlife Conservation has even allowed the killing and removal of Burmese pythons without a permit.
The situation has even prompted the FWC to encourage people to remove and kill pythons from private lands whenever they are spotted.