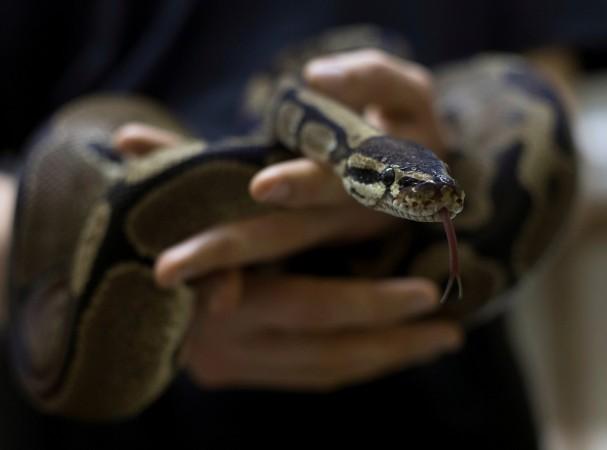 Snake charming has been a popular and ubiquitous practice in India and many other Asian countries. The dangerous street act often gathers a crowd who watches the snake charmer controlling the world's most venomous creatures. Recently, in India during such an act, a snake charmer escaped a near-fatal experience, when his pet python tried to strangle him during a live show.
The incident had occurred at Mau in Uttar Pradesh, India, March 20. The video, which surfaced online, shows the snake charmer wrapping an adult python around his neck during a street act and a crowd watching him doing so. The snake, however, tightens its grip and began to strangle him.
The man gets choked and collapses showing visible signs of distress, Newsflare reports. However, it took some time for the people surrounding him to watch his act to realize that the man fainted and that it's not a part of his act. After realizing that the man is in trouble, three men rush to help and free him from the python.
They somehow manage to remove the python and the man was later taken to a local government hospital. After treating the snake charmer, the doctors referred him to a better hospital in Varanasi. The current condition of the man is unknown.
However, such reports are not just limited to India, recently, it was reported that a famous "snake whisperer" died after being he was bitten by a cobra. Abu Zarin Hussin, 33, was famous for his snake-handling skills. He even featured on "Asia's Got Talent" where he kissed a cobra on its head.