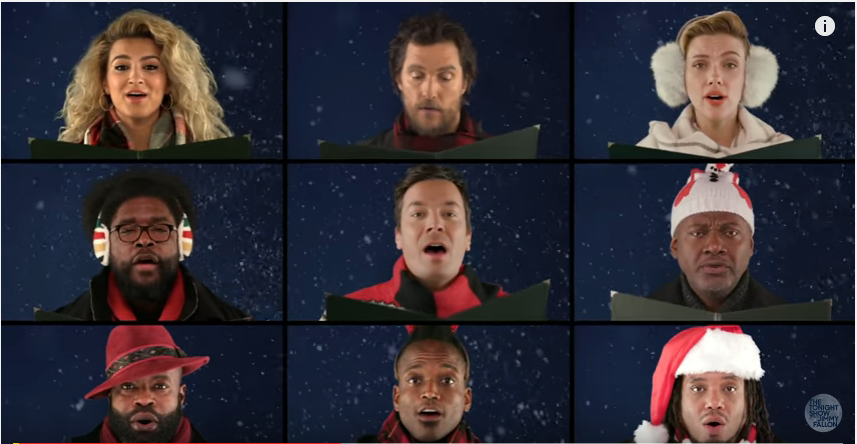 Given that it is a musical movie, Sing is bound to be promoted via musical promotions. Only a few days ago, we saw Stevie Wonder and Ariana Grande perform the movie's hit song, Faith, in the finale of The Voice. Now the cast has come together with The Tonight Show starring Jimmy Fallonm show host, Jimmy Fallon to perform another musical keeping the musical spirit alive.
The cast, Matthew McConaughey, Reese Witherspoon, Scarlett Johansson, Seth MacFarlane and Tori Kelly, come together with Fallon, The Roots and Paul McCartney for acappella rendition of Wonderful Christmastime. The song, posted on YouTube, has already hit a million views. The video of the song showcases acappella singers dressed in Christmas outfits and recreating a choir scene from the church. The video also introduces the viewers to the characters and highlights the cast members who have voiced in the movie.
The movie is set to release on December 21. The movie's plotline focuses on a dying theatre and a koala's attempt to save it in any way possible. With a plan to save the theatre, the koala (voiced by Matthew McConaughey) announces a singing competition with the cash award. His assistant, a one eyed lizard, Miss Crawley, misprints the winning amount. Instead of $1,000, she prints $100,000. The movie will lead on to show the koala's attempt to make the huge amount, the personal journey of each participant and who will win the show.
Other animals featuring in the movie include a pig named Rosita, a porcupine punk rocker called Ash and Mike the mouse among others. The film has already won a Golden Globe nominations for Best Original Song in Motion Picture.