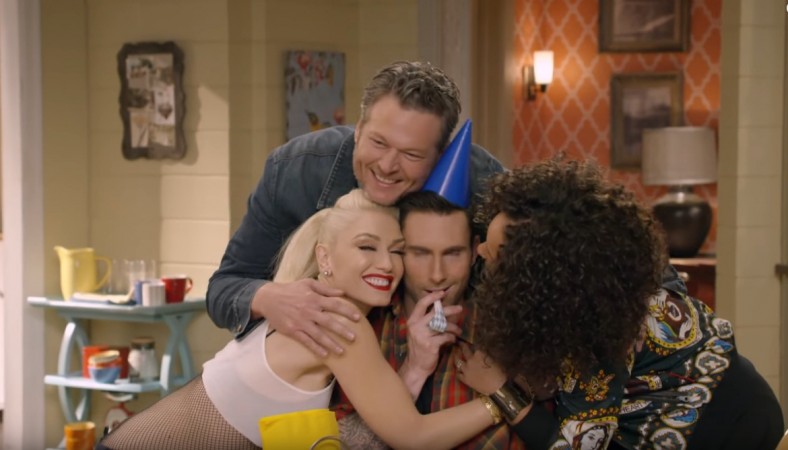 The Voice season 11 may have just ended with Sundance Head walking away with the $100,000 prize money and a record deal after months of competition, but everything has been set for the season 12 of NBC's three-time Emmy Award-winning musical competition. Fans of the show are abuzz with the news that Gwen Stefani will reunite with her boyfriend Blake Shelton in the upcoming season.
It is official! Adam Levine, Blake Shelton, Gwen Stefani and Alicia Keys will be the coaches for The Voice season 12 (2017). This means bubbly Miley Cyrus won't be in the show this time around. She was impressive as a coach though she went into the finals without any artiste in her team. Good news is she will return in the season 13.
[READ: Sundance Head wins The Voice Season 11; why he is better than Billy Gilman, We, and Josh]
"We can't wait to experience the unique chemistry and energy Gwen, Alicia, Blake and Adam will bring to season 12," Paul Telegdy, President, Alternative and Reality Group, NBC Entertainment, had said earlier. "With Miley returning for season 13, we're truly ecstatic about the unmatched musical know-how and talent coming together in our coming seasons."
Carson Daly will return as the host.
Gwen Stefani's return to the show will be like adding spice to the curry. She was a coach in The Voice season seven and nine, and her impeccable career in the music industry is well known. But what will catch the attention of the people is her chemistry with Blake. It has also been reported that the couple is planning to marry.
The first trailer of The Voice season 12 has the coaches living under one roof as a family.
"We are like brothers and sisters up in here," Alicia Keys told People. "I think it does really set up the vibe and energy of the season."
The friendly banter between Adam Levine and Blake Shelton continues, and followers of the singing competition may see more of it in the upcoming season.
"Maybe something like Three's Company, something like that. Adam would be the grumpy, old landlord and I would be the guy living with two girls," Blake joked when the magazine asked what show a sitcom of The Voice would take after.
"More like Family Matters. I'd be Carl Winslow and Blake would be Steve Urkel," responded Adam.
The Voice season 12 will officially begin on February 27 at 8/7 on NBC.
(Source: People)