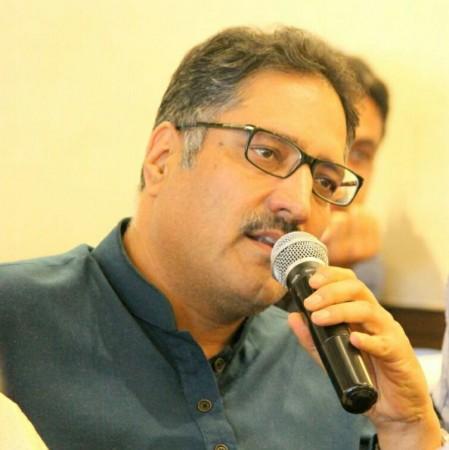 In Jammu and Kashmir's Press Enclave, which keeps buzzing with news reporters, students and shoppers, only a few faces command respect and leave you in awe and Shujaat Bukhari, the chief editor of Rising Kashmir, was one among them. He was killed by unknown gunmen outside his office in Srinagar on Thursday evening when he was on his way to an Iftaar party.
A bespectacled tall man who would greet everyone in the small media hub of Srinagar from a reporter to a photographer while he would be on his way to Rising Kashmir office.
A distinctive smile, busy on the phone or a book in the hand - some features Shujaat Bukhari ( or Shujaat Sir, as most of us would call him) would be recognised with. In a place like Kashmir, when regional journalism was on the verge of death, Bukhari brought out Rising Kashmir, a local English daily which soon turned into a platform for many talented local scribes. His love for Kashmiri language led him to float a local cultural organisation focused on the preservation of the dialect.
As Shujaat is laid to rest in his ancestral hometown, Kreeri, Baramulla in North Kashmir, many reporters who are covering his killing have their own stories and fond memories of the Kashmir's finest journalist to share.
Be it newspaper columns, the television panel discussions or international conferences, Bukhari's strong opinions were unmissable. Just a few hours prior to his death, Bukhari while responding to a journalist had tweeted, "In Kashmir we have done journalism with pride and would continue to do so
His seniors identified him as a journalist with a panache for digging facts, reporting them and being fearless about his work.
"I have seen him grow tremendously as a journalist from his Kashmir Times days to when he joined the Hindu and did amazing work there. But he not only transformed into an excellent journalist but an authority in the Indo-Pak relations diaspora, a cultural activist and later as a good editor when he floated Rising Kashmir," Malik told International Business Times, India.
The professionalism and impressions that Bukhari left on his team at Rising Kashmir could be gauged from the fact that his staff carried out the newspaper edition a day after their editor was killed.
The newspaper's front page had Bukhari's picture with a black background and its lead story read, 'Shujaat Silenced.'
Most of the young journalists and the university students in Kashmir looked up to him as a mentor and an inspiration since he not only excelled in reporting from a violence-torn conflict zone like Kashmir but articulated the voice of its people across the world.
Many have gone on to make a mark in national and international media across the world and owe a part of their success to their ex-editor.
Sana Altaf, who works as a web journalist with Dubai-based Khaleej Times and was a staffer at Shujaat Bukhari's Rising Kashmir earlier, told International Business Times, India that she always found him encouraging.
"He was one among those few senior journalists in Kashmir who would experiment with the new practices in our profession. A thorough gentleman with a great level of understanding when it came to his juniors, I will always remember that never fading smile on his face," Altaf said.