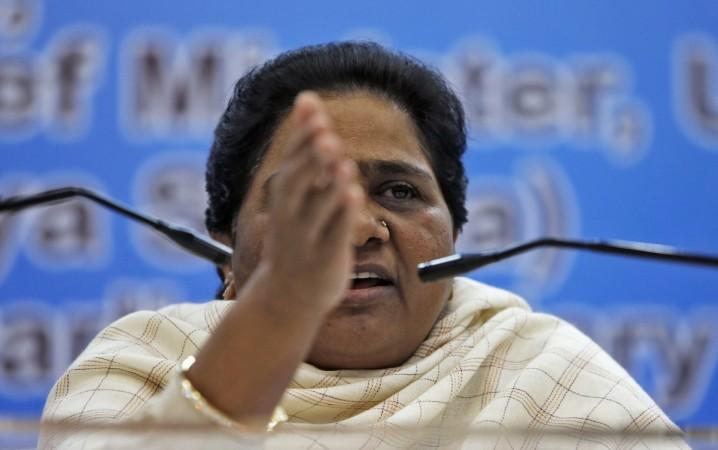 Bahujan Samaj Party (BSP) chief Mayawati on Tuesday lashed out at the Centre saying that the Narendra Modi-led government was trying to tarnish the image of her party ahead of the Uttar Pradesh assembly elections. She also asserted that due procedures were followed while depositing Rs 100 crore in BSP's bank account.
On Monday, the Enforcement Directorate (ED) had found cash deposits of over Rs 104 crore — Rs 102 crore in Rs 1,000 notes and the rest in Rs 500 notes — in BSP's bank account and Rs 1.43 crore in the bank account of Mayawati's brother Anand at United Bank of India (UBI) in New Delhi. ED officials visited the bank's Karol Bagh branch where they found huge deposits made in two accounts following the note ban.
"BJP is misusing the state machinery to malign the name of the BSP party. This is the party's money. Do we throw it away? The money belongs to the party, which has been deposited following due procedures. The entire money is accounted for. There has been no wrongdoing," Mayawati said.
The former UP chief minister added that several other parties had also deposited money in their respective bank accounts, but no one was talking about those deposits. Mayawati further said that her brother Anand, "who earns a living by doing a small business, also deposited money in his bank account as per IT norms."
Mayawati targeted Prime Minister Narendra Modi demanding that he make public all details of the deposits made by the BJP government before the demonetisation drive was announced on November 8.
ED officials said that Rs 18.98 lakh in old notes was deposited in Mayawati's brother's bank account after demonetisation was announced. They added that they were shocked to discover Rs 15 to Rs 17 crore being deposited into the party's bank account every other day, according to local media reports.
The agency has now asked for complete details of the two accounts from UBI and is expected to write to the Income Tax Department informing them about the matter. ED officials have also asked the bank to provide them with the CCTV footage and the KYC documents that were used to open the bank accounts.