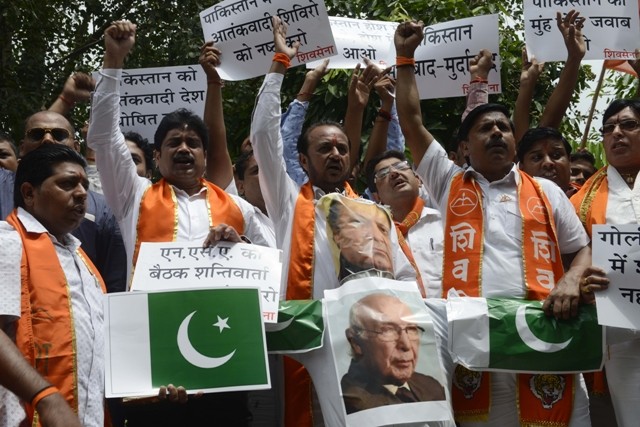 Indian political party Shiv Sena has lashed out at Pakistan for the arrest of Virat Kohli's fan Umar Draz on Thursday. The Pakistani national was given a rigorous ten year imprisionment term for hoisting the Indian flag at his home, situated 200 km from Lahore, on 26 January -- India's Republic Day.
The 22-year-old cricket-lover, who is a tailor by profession, urged the police to identify him as just another Kohli fan, and not as an Indian spy. However, the incident was termed as a crime by the Pakistani police, and Umar had to face the consequences.
On Friday, in their party mouthpiece "Saamana", the Shiv Sena condemned the incident and charged the neighbouring nation for their "hatred for India", and their inability in acting against real terrorists like Dawood Ibrahim and Azhar Masood, who have built a safe haven in Pakistan over the years.
"Umar Draz's house was raided and he was charged with committing an offence against his country (Pakistan). Was his mistake really this big?" an editorial in the Marathi newspaper said, according to PTI.
"Those who attacked the Indian Parliament, (those who) were responsible for the 26/11 terror attacks in Mumbai and recently for the attack on Indian Air Force base in Pathankot are roaming free in Pakistan.
"By arresting the youth, the country (Pakistan) has once again displayed to the world its hatred for India," the editorial added. "One has never heard of police raids in places where most wanted terrorists like Dawood Ibrahim, Zakiur Rehman Lakhvi Azhar Masood take shelter and run their organisations."
Umar mentioned that he was celebrating Kohli's swashbuckling knock of 90 runs not-out in the India vs Australia 1st T20 on Tuesday, and hoisting the tricolour in the roof of his house was his way of showing support to the Indian Test Cricket Team skipper.
However, a complaint from one of his neighbours prompted swift action from the police, who instantly raided his house, and Umar was charged under section 123-A of the Pakistan Penal Code and section 16 Maintenance of Public Order, after being sent to police custody.
"Umar Draz was not disloyal but Pakistani government acted against him. When will our government take action against disloyal Pakistan-lovers? There is a lesson to be learnt from Umar's arrest," the editorial piece in "Saamana" questioned.