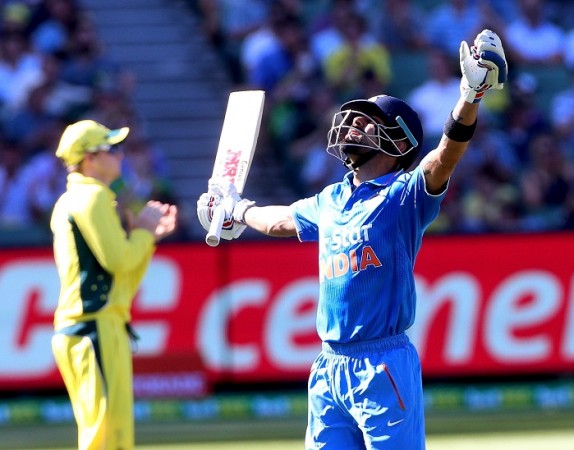 Virat Kohli smoked the Australia bowling to all parts of the Adelaide Oval, India posted a big score and this time the bowlers, led by the spinners, did what they had to do, defending 188 to give the visitors a vital 1-0 lead in this all-about-preparing-for-the-World-T20 series.
Asked to bat first by Aaron Finch in the first T20 in Adelaide on Australia Day and Republic Day, India got off to a solid start, with Rohit Sharma going all guns blazing from the top. Shikhar Dhawan was a mere spectator in the opening 4-5 overs as Rohit, with a bit of luck, smashed four boundaries and a six – most of them off the returning Shaun Tait -- but India lost momentum in over number 5, losing both the openers.
Rohit (31, 20b, 4x4, 1x6) holed out to mid-on off Shane Watson, before the experienced all-rounder befuddled Dhawan (5, 8b) with a slow bouncer.
From there, though, it was all about Kohli and Suresh Raina (41, 34b, 3x4, 1x6), with the left-hander showing just what India missed in the ODI series with a knock of real substance, even when he was not in the greatest of touch. Kohli (90 n.o., 55b, 9x4, 2x6), after a solid start, just picked up the pace with every passing over – helped by some poor fielding by Australia -- as India accelerated, for the first time in a long time, really well in the final five overs.
From 128/2 in 15 overs, India scored 60 off the final 30 balls, with MS Dhoni (11, 3b, 1x4, 1x6) also getting in on the act.
The only wish-that-could-have-happened regret of the first innings as that Yuvraj Singh or Hardik Pandya did not get a bat out in the middle, even if the latter would make up for that a little with a couple of wickets in the chase.
It looked like being another easy chase for Australia too early on, as Finch and David Warner got off to a flier, picking up 47 quick runs in the first five overs. India needed wickets to get back in the game, or the top three of Australia would run away with the chase again, and they got that with Jasprit Bumrah (3.3-0-23-3), ridiculously good again, getting Warner (17, 9b, 2x4, 1x6), before the spinners – Ravindra Jadeja (4-0-21-2) and R Ashwin (4-0-28-2) – took control.
After a brief blitz from Steve Smith (21, 14b, 3x4) – aided by a horrible first T20I over from Pandya, where he conceded 19 runs -- Jadeja and Ashwin picked up three wickets in a hurry, with the two Australia captains – Smith and Finch (44, 33b, 4x4, 2x6) – and Travis Head, who was hitting boundaries for fun in the BBL, walking back to the pavilion.
With the run rate jumping to nearly 11 following those wickets, India picked off the rest of the dangerous Australia batsmen – Pandya roaring back with a couple, including one of the potentially devastating Chris Lynn (17, 16b, 1x6) – to complete a comprehensive 37-run victory, as the home team finished on 151 all out in 19.3 overs.
Watch all the highlights from the match HERE
Watch Kohli's brilliant 90 not out HERE