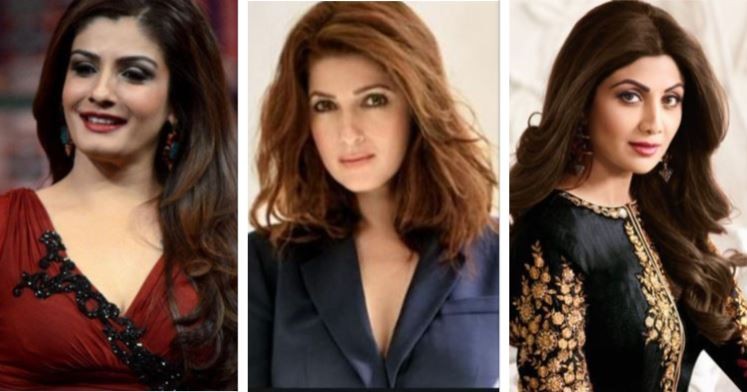 Let's take a look at Bollywood actresses who have been on the other side of the law.
Raveena Tandon: A criminal case was filed against Raveena Tandon causing disruption of road traffic during her visit to Muzaffarpur in Bihar this November, as reported by masala.com. The case had been filed by advocate Sudhir Kumar Ojha alleging that he was stuck in traffic for a long time when Raveena Tandon had come to inaugurate a hotel in the city.
Twinkle Khanna: A case had been lodged against Twinkle Khanna and husband Akshay Kumar for indulging in an obscene act during a fashion show. During a clothing fashion show, Akshay had stopped in front of Twinkle and asked her to unbutton his jeans. Both Akshay and Twinkle got bail in the case, as per a report in Cosmopolitan.
Monica Bedi: Monica Bedi was sentenced to five years of imprisonment for fake documentation and receiving a passport through fake fictitious name. Monica came into limelight due her proximity to underworld don Abu Salem, as per a report in Hindustan Times.
Mamta Kulkarni: In a Rs 2,000 crore drug bust case, Mamta Kulkarni and Vicky Goswami were issued non-bailable warrant by a special court, as per a report in Deccan Chronicle. Mamta Kulkarni has been on the run ever since the warrant.
Tabu, Neelam, Sonali Bendre: While shooting for the film – Hum Saath Saath Hain – in the 90s; Tabu, Sonali Bendre, Neelam too were convicted in the blackbuck poaching case along with Saif Ali Khan and Salman. The trio were later acquitted leaving only Salman convicted, as per a report in Times of India.
Shilpa Shetty: A Kolkata based company had filed an FIR against Shilpa Shetty for duping them of Rs 9 crore. A case of fraud and cheating had been lodged against her at Bhiwandi police station, as per a report in NDTV.