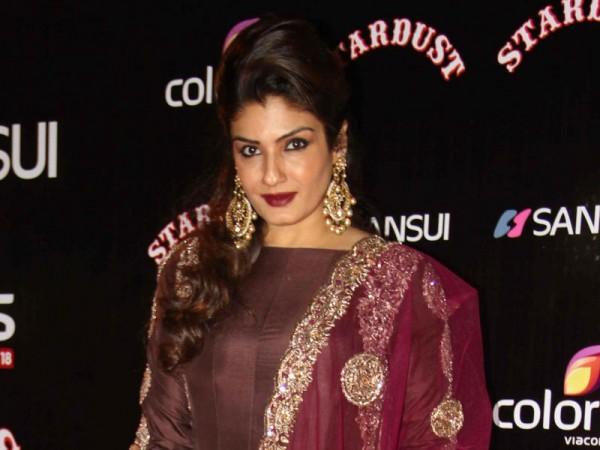 A complaint was filed against Raveena Tandon for allegedly shooting an advertisement inside the 'no camera zone' of Lingaraj Temple in Bhubaneshwar. However, the actress has denied the allegations, saying that it were the locals who clicked and filmed her, and now the onus is on the temple authorities to justify the incident of people being allowed to take mobile phones inside the temple.
A video had surfaced on social media showing Raveena giving some beauty tips from inside the temple while someone recorded her on a mobile phone.
The temple authorities later had filed a complaint against the veteran actress for allegedly breaking the temple rules and hurting sentiments of the devotees.
"Temple administration did not have information about the visit of the film actress. She had reportedly shot a commercial on cosmetic items. We are investigating how she was able to shoot the video without anybody objecting. We have also filed a police complaint," The Hinduhad quoted Rajiv Lochan Parida of the Lingaraj Temple Administration as saying.
However, Raveena has a different story to tell. She said she was not aware of the no-camera rule of the temple, and it was the fans present there who were clicking her pictures and recording videos.
"I had absolutely no idea about the people, who were filming me. Since everyone around me was carrying cell phones, they clicked selfies with me. One of them asked me about my fitness regime and sought some beauty tips. He filmed me when I was replying to questions," Bomaby Times quoted Raveena as saying to an entertainment portal.
Raveena further said that while she was unaware of it being a "no camera zone", the temple authorities there did not stop anyone from carrying or using mobile cameras.
"I now wonder, why those local authorities (who were aware of the temple restrictions), did not stop people, who were carrying cell phones. The police even did not frisk me or checked my handbag while I was entering the temple. I have full respect for rules of all temples. I have visited several shrines and never tried to flout the rules," Raveena said.
It has now been proven that it was not any ad shoot, and it were the locals who clicked her from inside the temple. Now Endowment commissioner, Biraja Prasad Dutta has sought report from the temple authorities within two days, explaining how the devotees could take mobile phones inside when it was not allowed.
Endowment commissioner Biraja Prasad Dutta seeks reports from Lingaraj Temple management & @bbsrctcpolice within 2 days as to how devotees managed to take cell phones to shrine and filmed @TandonRaveena in presence of servitors & cops. Cell phone is prohibited in the shrine

— TOI Bhubaneswar (@TOIBhubaneswar) March 7, 2018
It was no agency and no advertising. It was all locals & members of the Mandir Trust and some media who were filming on their mobiles phones and also taking selfies. Wasn't aware of phone ban, even local authorities didn't alert us or object: Raveena Tandon to ANI (File pic) pic.twitter.com/6pSW7OyMdA

— ANI (@ANI) March 7, 2018